Samsung Galaxy S6 to have a 'dual-edged' flexible display panel, tips screen analyst
46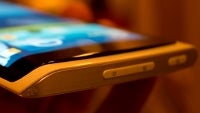 We recently learned that Samsung might be
starting from scratch with the Galaxy S6 design
, throwing away everything that its flagships looked like so far. Dubbed
Project Zero
, this would undoubtedly be the biggest overhaul of the Galaxy line ever since the first one hit the market a few years back. What we didn't know, however, is that the design overhaul might be very, very radical.
So edgy, in fact (pun intended), that an analyst tipped how Samsung could utilize its
YOUM brand of flexible displays
for the S6, and have it curved to the sides, just like the sloping panel of the
Note Edge
, but on both right and left this time.

Jerry Kang, a senior analyst at IHD Technology, has mentioned at the IHS Display Analyst conference on Thursday, that "
the Galaxy S6 to be released next year will feature a 'dual-edged' screen which is curved on the right and left sides
." In fact, the source mentions that this has been the initial Note Edge concept all along, but Samsung decided to slope the screen to the right only, after all.
An early look at the Galaxy S6 Project Zero undertaking pegs it as having a Quad HD display, Snapdragon 810 processor, a 16 MP or 20 MP rear camera with optical image stabilization, and an upgraded 5 MP front-facing shooter. In fact, the flexible display rumor about the Galaxy S6 has been
bandied about before
, and it also included the Note 5 in the whisper, so next year might be when Samsung's bendy screens really take off in production volumes.
Now it looks more certain that it will be of the bendy type, and when we couple those side-sloping display rumors about the Galaxy S6 and the Note 5, with the other one that they will
feature metal elements like the new A-series of Samsung
, and we suddenly can't wait to see how radically is Samsung going to change the looks and feel of its two major handset lines.