Samsung Galaxy S6 gets run over by a Tesla Model S in extreme durability test
20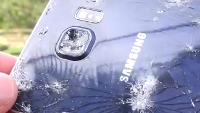 We've seen the
Samsung Galaxy S6
dropped from a height of 10 feet, landing smack right on the glass. We've seen the recently released handset
also fall from a professional drop machine
and stop working after a particularly bad impact. Other tests dropped the
Samsung Galaxy S6 edge
,
used it as a walnut cracker, and tested its ability to resist water
.
Those are pedestrian tests compared to a new one that was posted today on YouTube. In this test, Sammy's flagship handset is run over by a Tesla Model S. The 2014 model weighs a rather hefty 4647 pounds.
After you stop cringing, take a look at how the phone did. The Samsung Galaxy S6 back glass was shattered badly, even cutting the video's host. The front of the phone held up remarkably well and the phone was still functional following the test. We should mention that the Tesla Model S was then driven numerous times over the handset in an attempt to finish it off. While that final test shattered the glass on the back and damaged the screen so that it couldn't function, the bottom capacitive buttons still work. In other words, if you replaced the glass on both sides of the phone, it probably would still work.
Chalk one up for the engineers at Samsung.
Thanks for the tip!
source:
iCrackUriDevice