Galaxy S6 edge drop, water and nutcracker tests show stellar durability
64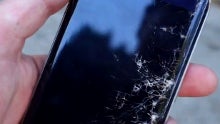 Samsung used plastic, instead of glass substrate for the flexible AMOLED display of the
Galaxy S6 edge
, so it can bend it on both sides, forming the notorious dual edge that makes it so unique. The side-sloping display functions might be more for bragging rights than practical purposes, but there is no denying that the new flagship might turn out to be one of the most drop-durable handsets out there, judging from the tests below.
The phone survives a fall from shoulder height, but that's not all there is to it. We don't know to what extent this ruggedness is due to the flexible display, and how much can be attributed to the Gorilla Glass 4 cover on top, since, as you can see in the third video below, someone breaks walnuts with one Galaxy S6 edge on top a Galaxy S6, and they both remain unscathed, despite the S6 having a regular glass screen substrate.
The Galaxy S6 edge was also dipped in water, despite being only splash-proof, as per its specifications. Much to everyone's surprise, the flagship kept on ticking even when submerged, and remained so fro about 20 minutes, meaning that in practice you shouldn't worry about using it in the rain, or dropping it in the bathtub, for instance.