Samsung Galaxy S6 edge vs iPhone 6: a real-life speed comparison
99+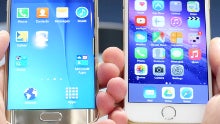 The introduction of
UFS 2.0 memory
to Samsung's high-end mobile devices - at the time, we could only speculate it was the
Galaxy S6
and
Galaxy S6 edge
- certainly piqued our interest. There was no way those speed improvements wouldn't impact their performance across all usage scenarios - especially when it comes down to app and file load times! Add to these the 3 GB of top-notch
DDR4 RAM
, and we just might have a winner.
That is why, at MWC 2015, we managed to pit a pre-release Galaxy S6 edge against Apple's
iPhone 6
with its blazing A8 chipset and tight software optimization. While the
Exynos 7420
in the Galaxy S6 edge
kills it in the multicore benchies
, the A8 is still on top when it comes to one-on-one processor core power, at least in synthetic tests. What we tested, however, is real-life experience when it comes to opening the most used stock apps on a phone, like the contacts, messaging, camera and so on, with their app loading times directly on display.
As you can see in the video below, the two phones are almost neck-and-neck when it comes to app launching speeds, which is more of a tribute to the top-shelf RAM and storage tech in the S6 edge, since
Samsung's TouchWiz overlay
is usually quite heavy to push around, especially on a Quad HD display like the one in the S6 edge. What do you think, does it seem like a tie to you?