Samsung, Xiaomi to equip the Galaxy S6 and other next-generation flagships with super-fast UFS Flash memory?
8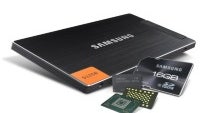 Korean website ETNews reports that Samsung Electronics is gearing up to produce super-fast UFS 2.0 NAND Flash memory with the goal of equipping its 2015 flagship phone, the Galaxy S6, with memory capable of 1.2 gigabytes per second data transfer speeds. Smartphones using the ubiquitous eMMC NAND flash technology reach an average of 400MB/s, and they already fetch data blazing-fast, but UFS is another ball-game altogether. It stands for Universal Flash Storage and combines a solid-state drive with a power-efficient MMC card, will provide the kind of bandwidth needed to assure streaming huge data (such as ultra-high resolution video) over LTE-A connections and beyond. Reportedly, UFS' power consumption is half that of eMMC 5.0.
Another company pouring fuel in the UFS fire is none other than Xiaomi, which is said to adopting the technology in a "next-generation model". While the Chinese disruptor's plans are unclear at this point, sources say Samsung will gradually replace SD and microSD cards with UFS-based solutions. As a leading manufacturer of NAND Flash memory, the company is in a comfortable position to spearhead the quick adoption of the standard and get the lion's share of the UFS market. It goes without saying that any smart devices relying on flash storage can potentially make use of it.
Upon inquiry, a Samsung Electronics representative told ETNews that the company will "start the apllication (of UFS) centering on flagship smartphones" and mentioned a "new smartphone release next year", whose specifications "have not been finalized". This means
the Galaxy S6
, or whatever Samsung's coming up in the first half of 2015, is in deep testing.
For the curious, here's a video of Toshiba explaining the differences between UFS and eMMC. Toshiba, along with Hynix and Micron, is among other manufacturers betting on the technology.
source:
ETNews
via
G For Games
(thanks for the tip!)