Samsung Galaxy S5: Samsung tries offering useful updates over bloat
56
This article may contain personal views and opinion from the author.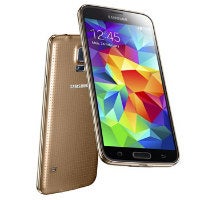 Samsung president and CEO JK Shin set the tone for the Samsung Galaxy S5 announcement right from the start by saying, "After all, people choose meaningful and relevant improvement for day to day use, and that is small. One step further, evolution always changes the world. That's the meaningful innovation." (English is not Mr. Shin's first language, but you get the idea.) Simply stated: consumers don't want the Galaxy S5 to be filled with bloat, they want useful updates.
Shin went on to explain that Samsung asked its customers around the world what they wanted in a device and found out that:
Our consumers don't want eye-popping technology or the most complex technology. Our customers want durable design and performance. Our consumers want a simple yet powerful camera. Our consumers want faster and seamless connectivity. And, our consumers want a phone that can help them stay fit.
More than anything else that I've heard to start a keynote speech, that filled me with hope, because the
bloat added to the Galaxy S4
was something that I have taken time to speak against. Of course, hearing it said on stage and having it be true in the product are two different things. Given what Samsung showed off in the keynote, and what we've seen in the device itself, the company has done relatively well in not adding too much in the way of bloat and gimmicks to the Galaxy S5. But, ultimately it looks like Samsung couldn't help adding in a few unnecessary options, and the company definitely didn't do too much when it comes to making its technology less complex.
Refinement rather than reinvention
One of the biggest troubles with Samsung in the past is that it has taken a "kitchen sink" approach to software design. Anything that could fit would be put in. Samsung's TouchWiz software has been what you would point to if you were trying to explain the idea of "feature creep" to someone. Samsung designers came up with ideas, and there was nobody around to say, "No, maybe that's not necessary." It looks as though Samsung has finally found some way to hold back, and focus on refining what customers want with the
new features
, rather than trying to reinvent the smartphone with unnecessary software.
Of course, refinement is a tricky option as well, because the loudest voices that you'll find in any comment section on the web don't want to think about how difficult it is to have "eye-popping" innovation every year. The loudest voices want something amazing every year, and nothing less. In reality, no company can offer that to a consumer. The best a company can do is offer a better experience than was offered in the previous product. From the early looks, it seems like Samsung has succeeded in that regard. The biggest issues for the majority of smartphone users fall into five categories: security, battery life, durability, performance, and the camera. With the Galaxy S5, those are exactly the issues that Samsung has addressed.
Security has obviously been boosted with the addition of the fingerprint scanner, but the scanner needs to be put through quite a bit more testing before it can be said whether the addition is a success or not. The biggest issue with the fingerprint scanner right now is that there is no official integration from Google, which means you'll be able to use it to unlock your phone and protect certain data and apps on your device, as well as use it to pay for things with PayPal. But there likely won't be Google Play support, which is on Google, not Samsung.
As far as battery life, Samsung made improvements through hardware and software, both in what it added, but in what it didn't add to the smartphone. Samsung made the battery a bit bigger, up from 2600mAh to 2800mAh (and kept it as removable). And, on the software side, Samsung added the new Ultra Power Saving Mode, and options to dim the display lower than usually allowed. These things alone would help to increase battery life, but the best decision Samsung made in this regard was with the display. Rather than pushing for a 2K display, as had been rumored, Samsung stuck with a 1080p display. A 1080p display at 432 pixels per inch is still an amazing display. A 2K display may have been a bit better, but pushing that many pixels is a serious drain on battery life.
In terms of durability, we may still see separate models for the Samsung Galaxy S5 Active with a more ruggedized construction, but at the very least, Samsung has made the S5 more durable by making it IP67 rated for water resistance and dust-proofing. It doesn't go quite as far as Sony has gone in terms of water-proofing devices, but it is a very nice addition by Samsung.
When it comes to performance, we start getting into a bit of a mixed bag. The bump to the Snapdragon 801 is a great upgrade, as is the addition of LTE-Advanced support. One of the sneaky awesome additions in the Galaxy S5 is actually the "Download Booster" which allows for combining Wi-Fi and LTE for faster downloads. However, the Wi-Fi additions alone will likely only be noticeable by a select few. 802.11ac and Wi-Fi 2x2 Multiple Input Multiple Output (MIMO) are nice updates, but only a few people have Wi-Fi access points that support those options in the first place which will limit the benefits. Being the first smartphone with MIMO is nice, but it also means that you may not get much use out of the feature. Even so, I can't put those updates in the realm of "bloat" by any standard.
Then we come to the camera, which is where things get a bit more troubling. The hardware updates are great: more megapixels, a bigger sensor, and a dedicated image processing chip. You can't argue with those. The improved hardware allows for much faster auto-focus, which should be an amazing update, and the hardware should lead to better low-light performance, which will also be nice. The software additions are also fairly subdued with just the HDR improvements and the Selective Focus mode, but again there needs to be more testing to sort out how useful those things are. The trouble comes from the one item lingering over all of these updates:
Leaving out bloat isn't the same as removing bloat
Samsung Gear
Fit or even a Gear 2 which also includes a heart rate monitor. Picking up a smartphone of this size simply to take your heart rate seems like it would be a cumbersome and not-so-useful endeavor, and one that will likely be a gimmick for many users. The overall S Health app seems like a really nice piece of software, but the actual heart rate monitor functionality is something that is better off-loaded to a wearable accessory, rather than being in the smartphone itself.
The real issue though is that just because Samsung hasn't added more bloat doesn't necessarily mean it has removed the bloat that was there. One of the worst things about Samsung Galaxy devices recently has been that Samsung's software alone could easily take up more than half of your available storage, depending on the storage size on your model. If you make the mistake of getting a 16GB model of the Galaxy S4 or Note 3, you may start out with only about 6GB free.
The only way to fix that situation is by removing features, not adding more. So far, it looks like Samsung hasn't actually removed anything from the TouchWiz software. It has redesigned some menus and changed a bit of UI here and there (TouchWiz actually looks better than ever has), but there are still areas that look to be over-complicated and filled with features that very few people are likely to use.
Conclusion
Right now, this is something that needs to be looked into more, because there hasn't been enough in-depth checking on the Galaxy S5 to say whether or not TouchWiz has shrunk at all. It seems reasonable though that if Samsung had cut it down significantly, it might have been a talking point during the announcement. There were quite a few people who were upset by the lack of storage on recent Galaxy devices, and those people would have been happy to hear that the problem had been addressed. But, Samsung made no mention of the issue at all, and the early word is that only
about 8GB
is available on the 16GB model of the Galaxy S5.
It will certainly be a topic of conversation as more info comes out in regards to the Galaxy S5, because this new trend of focused updates is a very welcome change for Samsung, but it needs to go a bit farther. Samsung has mistakes in the past that need to be cleaned up in order to truly offer the best experience to its users.