Samsung Galaxy S4 software features: Ahead of the game or gimmicky?
99+
This article may contain personal views and opinion from the author.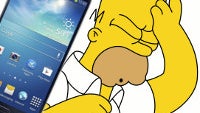 For the past several weeks, I've been getting to know the
Samsung Galaxy S4
a bit more from the inside and out. Now, if you read our extensive review of it, which was done by our very own Ray S., then you know that it received one of the
highest scores
we've given to any device this year – beating out even the fabled
HTC One
in the process! Paving the way, it seemingly set the bar in what we expect to find in the experience with a flagship device, seeing that it boasts a mind-boggling amount of new software features. Compared to its rivals, the totality of its arsenal is unmatched at the moment, but after showing the prized smartphone and demoing the cool things it can do, it makes me wonder whether the new software features are
more gimmicky
than anything else.
Before I dive into what I've personally experienced checking out this smoking new phone, we have to go back last year when Sammy introduced its Galaxy S III to the masses. Naturally, we can lament all we want about the plastic build of Sammy's entire smartphone lineup, but that's just something we have to live with at this point – even more that's the design DNA that they've decided to stick with. Going back to the Galaxy S III, I was impressed how Samsung was so calculated in how they meticulously worked on every angle of its
TouchWiz Nature UX experience
. Like seriously, its list of features were unparalleled! Personally, it's not the cleanest or slickest Android UI, but heck, its functionality was far superior than anything else that its rivals had to offer.
Being a successive device, it wasn't totally surprising to see Samsung build upon its preexisting functions with its TouchWiz experience on the Galaxy S4. For starters, they totally
revamped the camera experience
, as it boasts an insane amount of neat tricks – even to the point of overwhelming us! On top of that, the new hardware under the hood helped to bring some new additions to the experience – such as air gestures, smart scroll, and air view amongst other things. During the first week showing off the cool things you can do with the handset, like waving my hand over the phone to scroll through photos, everyone seemed to be amazed by all the new ways of interaction. However, the more I played around with it, the more I questioned whether they were
practical
, or merely
gimmicky
features just there to broaden its scope.
So here are some of the things that really became more apparent the longer I used the handset:
Air gestures can be inconsistent:

Naturally, there's always some sort of learning curve with anything new. As for myself, I have very little issue waving my hand over the display using its new air gestures to scroll up/down in the stock browser, or move through images in the gallery, but for those who tried it for the first time, they probably thought it'd be more intuitive, which resulted in many inconsistent responses. Personally, I would love to see the feature improved by being able to track my hand moment-by-moment – as opposed to doing a complete air gesture to execute a task. It's like scrolling on a resistive screen versus capacitive one.
You can scroll up/down via air gestures, but not left/right in the browser:

This one totally blows my mind! Yes, it's great that I can eat a footlong sandwich while having the option to scroll up/down in the stock browser without having a crumb hitting it, but what's preventing them for enabling us to scroll left/right? Oh wait, doing that permits me to move between any opened tabs! To tell you the truth, it would've been more useful if they just simply replaced that in favor of scrolling horizontally.
No "

pinch air gesture

": We're certainly still far from seeing that Minority Report like experience with our smartphone UIs, but there's no way to do pinch air gestures with the new TouchWiz Nature UX experience. Seeing that there's a new capacitive panel on board with the Galaxy S4, which brings for the Note's air view functionality with the aid of hovering with our finger, we thought it would've been possible to see "

pinch air gestures

." Despite its omission, which is probably due to a combination of hardware limitations, we're hoping to see some form of it with future versions.
Not enough third party app support:

As much as I love to show some magic hand waving tricks to random people interested in seeing the Galaxy S4, it would've been nice to see support for air gestures in other third party apps. Still, considering how quickly Sammy was able to expand its support of apps for its multi-window feature, we hope it's only a matter of time before the same happens with air gestures.
We like to blink and look away at times, so smart pause can be bothersome at times:

I have this involuntary condition where I like to blink normally, or even look away briefly – like any other normal human being. However, if you have the smart pause feature on, you'll need to constantly have your eyes affixed on the screen so the video you're watching doesn't spaz out every few seconds. Instead, it would've been nice if there were some kind of leeway before it triggers – then again, at least we can deactivate it entirely.
You'll need to know a lot of people using S4s to try its Group Play features:

I really want to show off some of the Group Play features of the Galaxy S4, but there's just one problem – I don't know too many people in real life right now with the S4 in hand as well. Without question, multiplayer game play on the S4 seems like a wonderful thing, as well as its handful of photo sharing options, but there's no way to make use of them unless I know other people who are using the phone too. Well, maybe in a month or so I can randomly game with someone in the subway to kill some time? Oh wait, we both need to download and play the same game to do that!
Smart Scroll is nice, but again, there's no scrolling left/right:

So far, people have been mostly impressed by the S4's Smart Scroll feature – the one that relies on eye tracking to scroll in the web browser vertically. However, the surrounding lighting conditions can hamper its operation. Now, the thing that people don't see when I show off the feature, is that I'm slightly tilting the phone forward/back to get it to function fully. If it can track my eyes up/down, then why is it that it can't track it left/right? This, I ponder many nights in bed.
I want to get fit, but I need more than the phone & S Health:

In its attempt to monitor our daily lives, Samsung introduced S Health with the Galaxy S4 – the one stop-shop for all your health tracking needs. As a fitness fanatic myself, I really appreciate that Sammy is tackling this new category head-on, but there's just so much that the smartphone can do all by itself. Tracking how many steps I take is wonderful, but you'll need to carry along a heart rate monitor in order to get an accurate calorie burn number. Well, at least they're coming out with an assortment of accessories in the near future to give those who need precise counts.
Seriously people, that's just a few of the things that popped up the more I played around with the Galaxy S4. Perhaps I'm just being too picky right now, but the execution of some of the new features seem a bit arcane – it kind of reminds me of scrolling in Pocket Internet Browser on the resistive touchscreen of a Windows Mobile Phone. For the moment, it might not seem as intuitive or responsive, but technology has this affinity for constant improvement, so we're crossing our fingers for the best. When it comes down to it, though, the extensive list of features on the Galaxy S4 might seem overwhelming, but hey, they're at least well ahead of the curve in this department. Who doesn't want more features on a phone? Ultimately, I harken back to the question I posed at the beginning: Are these new software features ahead of the game or gimmicky?