Samsung Galaxy S5 Prime is certified by the RRA, South Korea's version of the FCC
25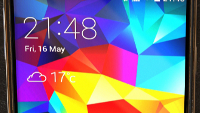 The
Samsung Galaxy S5 Prime
, while still unannounced, appears to be one of a new series of "premium" flagship phones. In the case of the
Samsung Galaxy S5
, it would seem that
the manufacturer first released its flagship model
, took note of the complaints made about the phone, and then addressed these complaints with a "Prime" version.
Chief amongst the questions that people had once the Galaxy S5 was unveiled was, what happened to the 1440 x 2560 resolution screen that was supposed to be employed on the device? And of course, there was the usual sniping about the plastic build quality. Almost immediately, rumors about the Samsung Galaxy S5 Prime started leaking in earnest. This device was said to feature the QHD display and the metal chassis that everyone had thought would be included with the original model.
On Tuesday, South Korea's version of the FCC, the RRA (Radio Research Agency) "signed off" on the device. Three different variants of the phone, one for each major carrier in the country, has been given the thumbs up by the Agency. The SM-G906S is heading to SK Telecom, the SM-G906K will be offered by KT, and the SM-G906L is on the way to LG U+.
With
the Samsung Galaxy S5 Prime already receiving its Bluetooth Certification
, it would appear that we could see a June unveiling of the device. Other manufacturers are taking note of this new "Prime" category. The HTC One Plus and Advance models are rumored to be coming,
adding features that some had hoped would have been on the HTC One (M8)
, such as a waterproof build, a QHD display, Snapdragon 805 processor, and a larger battery.
If this becomes standard procedure, it could be bad news for smartphone manufacturers; they could end up training consumers to pass up buying the new flagship model, and teach them to wait for the "Prime" version with all of the goodies missing from the first release. And what will Samsung do to placate the millions of Samsung Galaxy S5 buyers? If the Samsung Galaxy S5 Prime is released, as it seemingly will be, these customers spent their hard earned money buying what they thought was Sammy's flagship smartphone, only to discover that something better was around the corner if only they had waited a few more weeks.
Thanks for the tip!
source: RRA (
1
), (
2
), (
3
) via
GforGames