Samsung Galaxy S4 with Exynos 5 Octa benchmarks outscore every Android out there
99+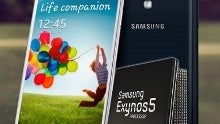 Even the house pets heard already that the
Samsung Galaxy S4
is arriving in two forms - with a Snapdragon 600 chipset or Samsung's own
Exynos 5 Octa
processor. There aren't as many Exynos 5 chips in production as there will be Galaxy S4 demand, so
the initial batches are said to be 70:30 in favor of the Snapdragon variant
, not to mention its LTE prowess.
The
Cortex-A15 Exynos 5 Octa chip
version just got benchmarked, though, and the results beat every other Android out there, including Samsung's own S4 variation with the Qualcomm chipset.
On Quadrant, the GT-I9500 model scored 12,726 points, which is higher than the
HTC One
, for instance, which was the fastest stock one so far in this test, though the S4 is still in the twelve hundreds range. A larger difference is seen in AnTuTu, though, where the Exynos 5 Octa-laden Galaxy S4 printed out 27,417 points - about 10% more than the highest score so far, achieved by the stock Snapdragon 600 version of Samsung's current finest.