Samsung explains how big.LITTLE works on chips like Exynos 5 Octa
16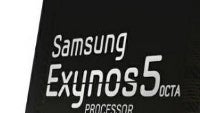 Samsung's
Exynos 5 Octa
is one possibility for the upcoming Galaxy S IV flagship, the most anticipated Android device this year, and while we don't yet know about the S IV's internals, Samsung has posted a video explaining how the
big.LITTLE setup
on an octo-core chip works.
big.LITTLE is ARM's architecture where high-performance Cortex A15 cores (big) are paired with energy efficient Cortex A7 (LITTLE) cores that take over when non-demanding tasks are at play.
It's interesting to see the whole setup in action, and to do that we are seeing a setup made out of two A15 cores and three A7s with no graphical accelerator shown running the Android system. You can see how the MP scheduler correctly assigns each task to the right core depending on its intensity.
While Cortex A15 is great performer, it is too power hungry to be used alone in smartphones and that's why it is paired with the A7.
source:
Samsung