As long as your phone turns on, Samsung will give you $200 for it towards an S10 purchase
11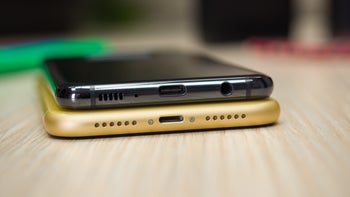 Samsung is ready to walk the extra mile and basically help you get rid of that old phone you have sitting in a drawer somewhere, be it an Android device or an iPhone. The company has been giving "up to $300" so far for trade-ins but you had to swap a pretty new handset for the even-newer S10 or S10+.
Now, however, it has an option to
trade in any phone
that responds to the conditions below, get $200 for it, and apply those towards the purchase of a
Galaxy S10e
, S10 or S10+. The deal effectively lowers the S10+ price down to $800, the S10 to $700, and so on. Not bad for a clunker you may or may not use as a backup phone at some point.
The handset you will mail to Samsung after receiving your brand new
Galaxy S10
model, however, will have to be FCC-approved with the respective label, so if you bought an obscure Chinese phone from Amazon on the cheap, it won't do. If you have an FCC label on the back, though, and the phone is in working conditions, all you have to do is restore it to factory settings, wiping your data clean in the process, and give it to the courier to deliver to Samsung.
a) Your Trade-In Device must power on, hold a charge and not power off unexpectedly;
b) Your Trade-In Device must have a functioning display with no black spots or dead pixelation of any kind;
c) Unless a Cracked Screen Offer applies under Section 6 below, your Trade-In Device must have no breaks or cracks, or other defects that go beyond normal wear and tear, including but not limited to: multiple scratches, dents, or dings; evidence of water damage; or corroded charging port, SIM, or battery terminal contacts;
d) Your Trade-In Device must not be on a blacklist of any kind;
e) At the time of trade-in, you must be the owner of the Trade-In Device, as leased devices are not eligible;
f) Reactivation Lock, Google Factory Reset Protection, or any other anti-theft locking software must be disabled on your Trade-In Device;
g) Before shipping your Trade-In Device to Samsung, you must perform a factory reset on it and remove all personal information (as described in Section 3 above); and
h) Your Trade-In Device must be labeled with an FCC ID to show that it is certified for use in the United States under applicable FCC regulations. The FCC ID number can usually be found printed somewhere on the mobile device. Sometimes it may be necessary to remove the battery pack to find the number. The FCC ID number can also be found in the user manual for each device.
In addition, you may be able to trade in a device with a cracked display. In section c) above, Samsung stipulates that as long as the phone you are trying to slip it fits its Cracked Screen Offer requirements, you are good to go. The thing is that those requirements are not entirely set in stone, and it is often up to the sole discretion of the rep accepting the trade-in phone to decide whether the crack is worth repairing.
You do have to ship your old gear within 15 days of receiving the new Galaxy and if Samsung deems it outside of the abovementioned requirements, it will only apply $25 discount to your purchase that basically covers the shipping costs. In any case, it's nice to know that the $200 trade-in option for any old phone is there, so you can start ruffling through your drawers for long-forgotten handsets to ditch in favor of the latest and greatest.