Samsung Galaxy S IV announcement date corroborated to be March 14th
30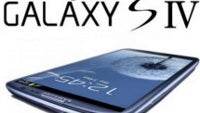 Just hours ago we first heard a new date for Samsung's much anticipated
Galaxy S IV unveiling - March 14th
. Russian blogger Eldar Murtazin confirmed that's when Samsung will lift the cover off its new Android flagship in an event in New York City.
Now, The Verge is corroborating the date, which happens to be a day earlier than earlier rumors for the S IV unveiling.
"The Verge has now confirmed with sources familiar with Samsung's plans that March 14th is "definitely" the day that the Korean giant plans on revealing one or more new devices, one of which is presumed to be the Galaxy S IV."

Interestingly, Sam Mobile and other sources close to Korea mentioned Samsung was working on a mysterious
Project J
involving three devices - the Galaxy S IV, a supposed S IV mini and a smartwatch. It is not clear whether Samsung will unveil something more than the Galaxy S IV on March 14th, but we would not rule out the possibility.
Going back to the time and date of the recent leaks, while Murtazin said the event would be in New York, we should mention that The Verge could not confirm that.
The last piece of the puzzle is a rumor saying the
Galaxy S IV might look like the recently leaked Galaxy Note 8.0
, Samsung's 8-inch tablet. We've seen that device leaking pretty much as a Galaxy S III look-alike, but that might not be its final design. Word is both the S IV and Note 8.0 will share design clues, but we're yet to see which ones.
source:
TheVerge