Samsung Galaxy Note 8.0 release date set for end-March, priced slightly higher than iPad mini
24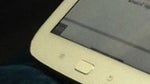 The
Samsung Galaxy Note 8.0
has
leaked here
and
there
, and by now we have little doubt that it will indeed get officially unveiled very soon. What's interesting and new however is that the Galaxy Note 8.0 will launch at the end of March in Europe with a price slightly higher than that of the Apple iPad mini.
The news come from Bulgaria where local etailer Tablet.bg obtained both the price and release date of the Note 8.0.
A Wi-Fi-only version of the Samsung's Galaxy Note 8.0 will launch at the price of some 699 Bulgarian leva, or the equivalent of 359 euro. In comparison, the iPad mini costs 349 euro for the 16GB Wi-Fi only version.
There will also be a 3G-capable model of the Note 8.0, and its price will be around 869 Bulgarian leva (that translates to some 449 euro).
So far, Samsung's 8 incher is rumored to have a 1,280 x 800-pixel display (better than the 1,024 x 768-pixel one on the iPad mini), a 1.6GHz quad-core processor, 2GB of RAM and the S Pen. That will definitely justify a slightly higher price than the iPad mini, don't you think?
source:
Tablet.bg