Samsung Galaxy S III torn down on video
5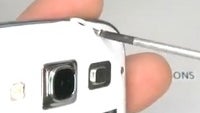 The
Samsung Galaxy S III
is probably the most sought after Android device to have come out ever, but with such a huge demand comes the higher chance of one in millions buying the phone accidentally dropping it and cracking the screen. We'd feel a chill if we did - the device costs around $750 off contract after all.
But if you crack the screen, or just want to peek inside the Galaxy S III to see what makes it tick, now there's a video walkthrough of how you can disassemble the gadget. We've already seen the step by step instructions to opening the S III, but while those were only pictures, now you have a full video so you can pause, rewind back and forward, and generally feel safer prying your device open. Interestingly, the
first teardown
showed that the new Samsung flagship features the very same camera as the one on the iPhone 4S.
This here video is around 20 minutes long, so you definitely have all the details you want. Hit the source link to take a look at the video, and for the original HTC One X nail smashing just look below.
Recommended Stories