Samsung Galaxy S III torn down, has same camera sensor as Apple iPhone 4S
57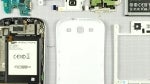 The latest smartphone to subject itself to a teardown
is the Samsung Galaxy S III
. The specific model is the GT-i9300, also known as the international version of the phone. You can tell that it is not the model headed to North America by spotting the Exynos 4412 1.4GHz quad-core processor. As we've already mentioned, the 4412 is produced
using the same process used to make the Apple A5 rev 2, APL2498
. The latter is also manufactured by Samsung. Storage and other forms of memory are handled by the Samsung KMVTU000LM, a multi-chip
Samsung
MOVI N and
memory module
.
Inside the Samsung Galaxy S III you will find the Intel Wireless PMB9811X Gold Baseband that
was also used in
the Samsung Galaxy
S II
. Wi-Fi is handled by the Broadcom BMC 4330 and GPS belongs to the Broadcom BCM47511 Monolithic GNSS receiver. The NXP PN544 NFC Chip is on board for NFC support, obviously. SkyWorks is represented with the SKY77604 Multi-Mode / Multi-Band Power Amplifier.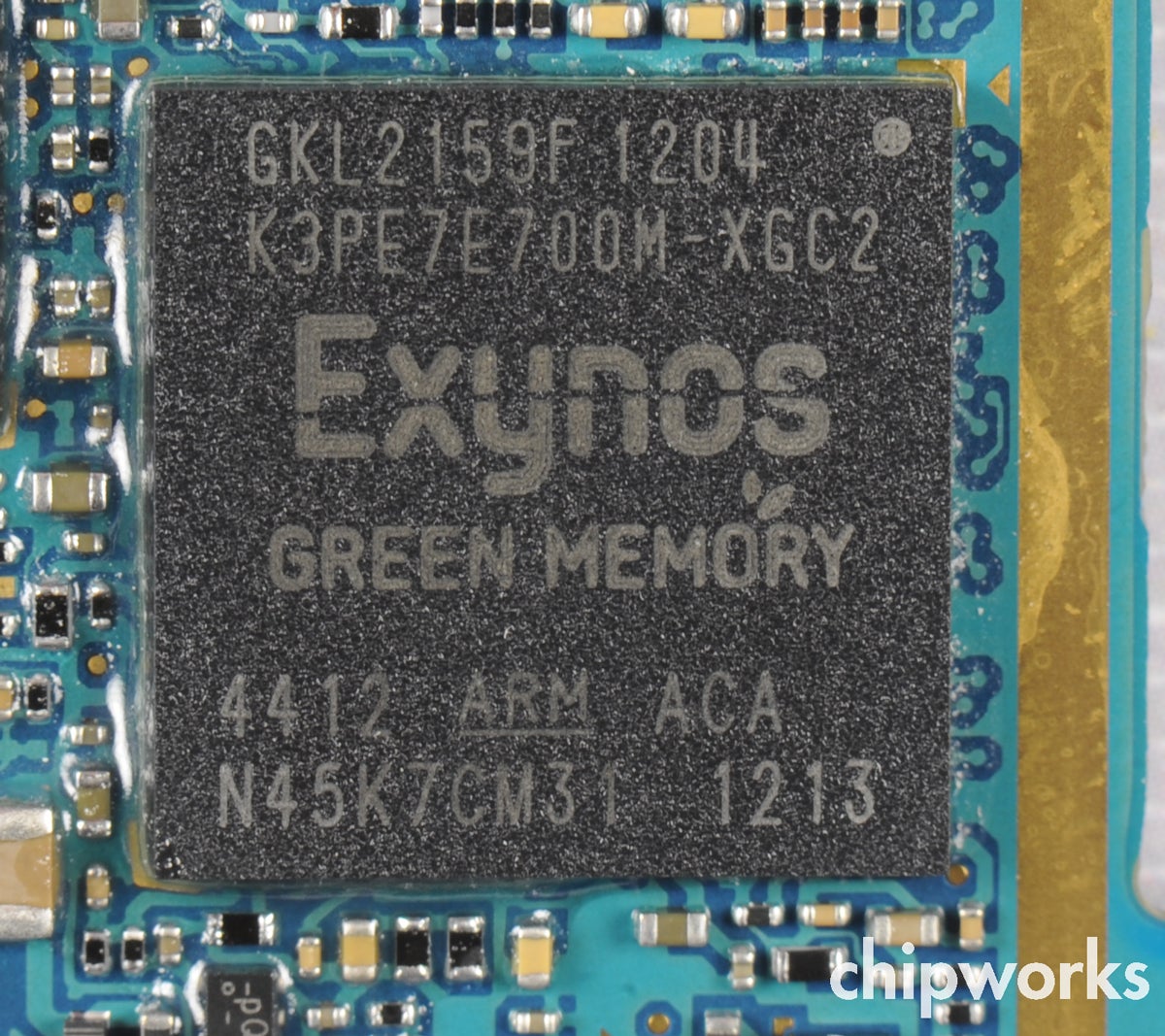 Inside the GT-i9300, the quad-core 1.4 GHz Samsung Exynos 4412
Some parts are labeled to
reveal their role in the infrastructure of the phone
, such as the Melfas 8PL533 Touch Screen Controller, the Wolfson WM1811AE Audio Codecand the Maxim Max77686 Power Management IC. Other parts inside the Samsung Galaxy S III include the Maxim Max 77693, which is a device that handles a multitude of chores such as PMIC, MUIC, and the flash LED control. You will also find inside the handset the Audience 305B voice processor, the Silicon Image 9224BO RF Transmitter and the STMicroelectronics STD03 AMOLED Display Driver.
One thing we left out until now is the
Sony
8 Mp 1.4 µm back-illuminated primary (rear facing) image sensor.The reason why we saved that for last is because you will also find the
same exact sensor in the Apple iPhone 4S
. Finally, Android and Apple fans have a way to compare Apples to, uh, Apples if only just with the camera. No sense in trying to discern from users which camera takes the best pictures because everyone will vote along party lines.
source:
Chipworks
,
iFixit
via
Pocketlint
Recommended Stories