Samsung Galaxy S III to cost $600 on Verizon at full retail price
17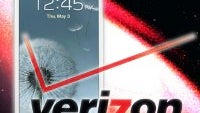 Samsung introduced
uniform design and pricing for its flagship Android phone
this year in the US, so each of the major carriers will be selling it at $200 for the 16GB version, and $250 for the 32-gigger.
What we didn't know, however, is the unsubsidized price the handset will go for, and with Verizon that is pretty important, because the carrier might only allow you to keep your grandfathered unlimited data plan
if you pay full retail
for a new handset,
once the new plans become official
. Different rumors say the Samsung Galaxy S III will launch on Verizon July 5, 6 or 9, but the preorders start today for sure.
Leaked Verizon docs peg the full price for the handset at
$599.99 for the 16GB version
, and $649.99 for the 32GB one, in line with expectations. Granted, this is still a lot more than the average US subscriber is used to paying for even the best cell phone, but that could be the price to pay for unlimited data pretty soon, and, on the plus side, you get to use it with vengeance.