Samsung Galaxy S III T.V. ad debuts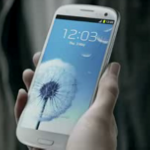 The international version of the Samsung Galaxy S III
will launch at the end of this month
and
Samsung has released a 60 second television ad for the highly anticipated device
. Instead of showing off the specs of the phone, such as the quad-core 1.4GHz exynos processor or the 4.8 inch HD Super AMOLED display or even Android 4.0, the ad aims for a more emotional connection to the viewer.
Instead, we are told that the Samsung Galaxy S III understands you, shares what is in your heart, keeps track of loved ones, recognizes who you are, follows your every move, sees you best side, connects with nature and waits until you're asleep. All of this touchy-feely stuff doesn't really tell you much about the phone which is why we have always been fans of ads that show off the features of a handset.
This commercial will most likely not be seen in the States. Not only isn't the phone expected to launch in the U.S. until June, but the ad uses the international version of the phone and the
European spelling of the word "recognises"
using the "s" instead of the "z". Perhaps the ad aimed at U.S. audiences will focus more on the phone instead of trying to tug on viewers' heart strings.
source:
PocketLint