Samsung Galaxy S II stars in its first commercial (video)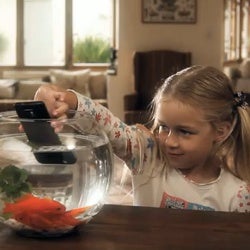 The Samsung Galaxy S II is gearing upfor prime time, and as it's being rolled out for pre-order in variouscountries, it got its first commercial focusing on the handset'svivid SuperAMOLED Plus display. Just how vivid is it? This ad aims toconvince us that it's too realistic - enough to fool a kid the fish on the screen isreal. With this being said, don't leave your kids dropping your phoneinto the fish tank as the awesomeness of punchy colors on the4.3-inch screen of the Galaxy S II comes for a retail pricecomparable or even surpassing that of a notebook.
Skip back for the full video below, but if you want more than your usualmarket speak about the wonders of Super AMOLED Plus, feel free toalso check out our cold-blooded comparison detailing its pros and consover some of the hottest screen technologies like iPhone's RetinaDisplay and Super AMOLED.