Super AMOLED Plus vs Super AMOLED vs Retina Display
45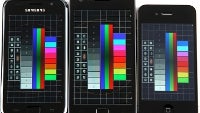 Updated with additional pictures and info


We quickly put the preview unit of the
Samsung Galaxy S II
that's making the rounds in the office next to last year's best screen technologies - the Super AMOLED display on the Samsung Galaxy S, and the IPS-LCD Retina Display on the iPhone 4.
For pitting three of the most advanced screen technologies on existing smartphones, we used the studio setup you can see here, with diffused lighting on both sides with the same color temperature as daylight, for reference purposes, and then turned the light off for shots in complete darkness. For the camera white balance adjustment, we used three matte patches on cardboard: 90% white, 18% grey, and 1% black (velvet).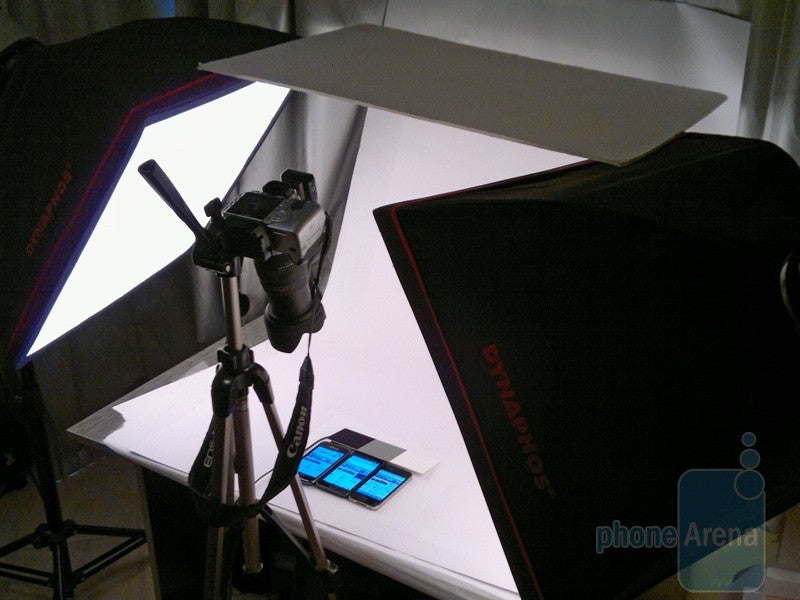 The two sources have the same color temperature as daylight
The contrast on the Super AMOLED screens is higher, but the iPhone 4's IPS-LCD is brighter, as you can see in the shots below, which comes in handy in broad daylight. Samsung has tried to compensate with a low-reflectance coating, but the results don't seem to be good enough.
Text on Sammy's newest flagship appears crisper now, than on the display of the Galaxy S, due to the fact that Samsung's Super AMOLED Plus technology uses a normal RGB matrix for the pixel arrangement, not the PenTile one on the first generation, which utilized less subpixels, thus altering the perceived resolution.
Both matrix arrangements, however, can't beat the Retina Display resolution.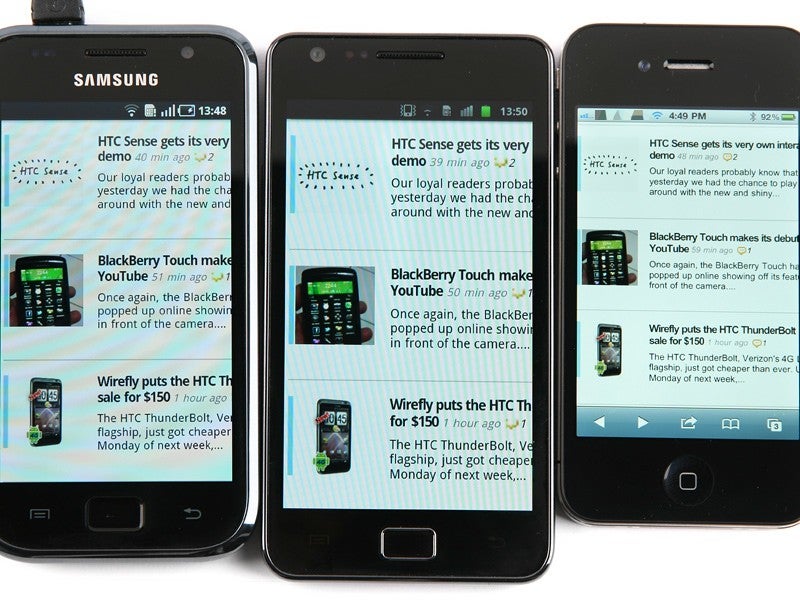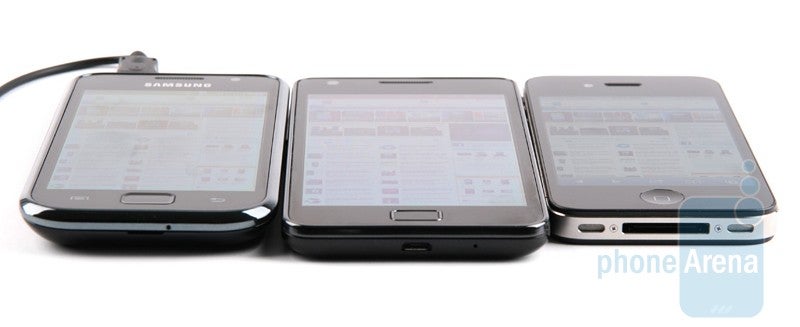 Left to right - Samsung Galaxy S, Samsung Galaxy S II, Apple iPhone 4
There is this bluish hue that overcasts the AMOLED displays, and Super AMOLED Plus ones for that matter. Conversely, the IPS-LCD as found on the iPhone 4 manages to present us with somewhat more natural colors, although not as saturated and popping-out.
In the end, here's our summary: what we like more on the iPhone 4's IPS-LCD screen is its incredibly high resolution, natural-looking colors, as well as great outdoor and wide-angle visibility, with the latter being on par with Super AMOLED Plus. The Galaxy S II's Super AMOLED Plus however leaves its mark when it comes to awesome contrasts (these are contrasts, which are near complete awesomeness, by the way), as well as greatly-saturated colors, which can make even the most boring of images stand out.