Samsung Galaxy S II - EXTREME UNBOXING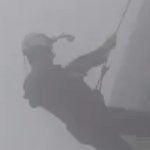 When you utterly have a screaming phone that blindingly radiates from every nook and cranny, a simple unboxing video doesn't necessarily provide enough justice – but rather, it requires something far more extreme. With that in mind, we just have to share with you one extreme unboxing video that takes things to the extreme
edge
; literally!
PhoneArena's very own editor, Basil Kronfli, took the
Samsung Galaxy S II
to new heights in order to provide us all a look on how it's like to do an unboxing video far away from the comforts of being on solid ground. In fact, we find him tethered to a rope along the side of one of
Snowdonia's cliffs in North Wales
, with a camera on hand to give us a look at Sammy's new toy. Of course, there's nothing pretty about falling down to earth, but you really have to wonder the kind of eye-hand coordination that's required to meticulously unbox the phone when you're hundreds of feet above ground. Nevertheless, he's able to keep any fears at bay and face the prized handset while dangling on the side of the cliff. Considering the fogginess of the situation, it doesn't deter our man from talking about the upcoming handset.
Undoubtedly, the extreme nature of the unboxing process is cool, but Samsung UK actually recorded a bunch of extreme unboxing videos for the Galaxy S II with other tech web sites. From free-falling down to earth to experiencing a bumpy rally car ride, Samsung shows us the extreme nature that's required to show off their smartphone. So if you'd like to see more of our editor and many others do their extreme unboxings, click the link below to jump right into Samsung UK's YouTube channel.
see more at
YouTube