Samsung Galaxy Note III may come in more than just white and black
31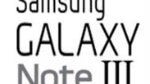 Yesterday, we found out that the Samsung Galaxy Gear smartwatch may be offered in
five colors
to start, and even more later on. Today, it's time to find out what colors are in fashion for the
Samsung Galaxy Note III
, because plain old white and black just don't cut it these days. Samsung might be planning to go beyond white and black, and the color that may be offered could surprise you.
According to SamMobile, which broke the news about the Gear smartwatch colors yesterday, the Samsung Galaxy Note III is planned to initially launch in black and white, as you would expect. But, apparently in late October there will be another color to be released:
pink
. Maybe that wouldn't be the most popular color with our readership, but there are very few devices offered in pink, so that would be quite an interesting choice.
Of course, as always, there is no guarantee that pink will be made available worldwide. There is a fair chance that the color will only be available as a regional exclusive in South Korea or Taiwan. So, if you really want a pink phone, you may have to go with a customized Moto X.