Samsung Galaxy Note ICS update goes live in Germany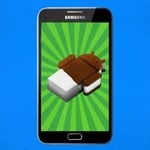 Ice Cream Sandwich update for the Samsung Galaxy Note is now live
in some parts of the world. Users in Germany report getting notifications about a 318MB software update for their phablet (
model N7000
, to be more specific), and it wouldn't be surprising if the rollout expands to other countries across the Old Continent in the very near future.
The update for the
Samsung Galaxy Note
adds all the goodies that Android 4.0 is blessed with, but that is not all. Also included in the set is the
Premium Suite from Samsung
, which adds a bunch of S-Pen optimized applications. To start,
Shape Match
and
Formula Match
can be used to correct and digitize geometric shapes, tables, and grids drawn with the S-Pen, and can even solve numeric formulas. In addition, the
My Story
app allows users to make their own personalized digital cards.
If the Ice Cream Sandwich update has reached your Samsung Galaxy Note as well, do not hesitate to let us know by dropping a comment. If not, just keep an eye out for notifications as these update rollouts usually take time.