Report: Samsung Galaxy Note 9 unlikely to feature in-display fingerprint sensor
28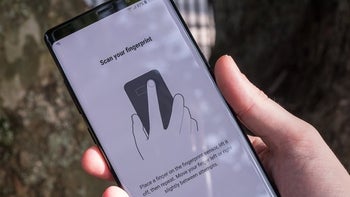 There have been many reports lately that claim Samsung is working hard to implement the fingerprint sensor under a phone's display, but it is yet unclear which of the company's products will be the first to include the new technology.
A Samsung patent discovered early this month
clearly confirmed that the South Korean giant is working on in-display fingerprint scanner technology, but didn't really offer any evidence that the new technology will be implemented on a certain device.
Now, South Korean media reports that Samsung is rather inclined to include in-display fingerprint scanner technology with the
Galaxy S10
rather than the Galaxy Note 9, as the latter is expected to be unveiled sometime in August.
However, it appears that Samsung was initially determined to apply the new fingerprint sensor technology to the
Galaxy Note 9
, but changed its mind because even though the development is complete, the technology's accuracy must be improved and production costs must be lowered.
Unlike Huawei and
Vivo
, which already launched smartphones that include in-display optical scanners developed by Synaptics, Samsung has taken another approach and decided to develop an in-display fingerprint sensor that is based on ultrasonic technology, which is more accurate, but also more expensive to produce.
Two other major players in the smartphone industries are developing their own versions in-display fingerprint scanners, Qualcomm and Apple, and both are based on the same ultrasonic technology.
Another reason that made Samsung delay the implementation of the new in-display fingerprint sensor technology is that the company wants to use it in other products as well, not just inside smartphones, so every bit of refinement counts in this case.