Samsung Galaxy Note 9 might feature an in-display fingerprint scanner after all
31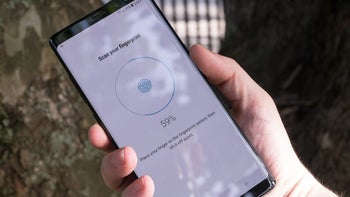 According to Korea Herald and an anonymous industry source, Samsung Display (a subsidiary of Samsung Electronics) currently has three or four solutions to embed a fingerprint sensor into the Super AMOLED screen of the Galaxy Note 9, and Samsung is "seriously considering one of the solutions."
Reportedly, a final decision regarding the placing of the fingerprint scanner should be reached by the end of March, when a final design of the phone should also be agreed upon. It's said that Samsung Display has yet to perfect the
in-screen scanner technology
. But another industry source argues that, since the Galaxy Note 9 is expected to be released in "late August" (just like the Note 8 was in 2017), there is enough time for the technology to be improved.
As you probably already know, last year's
Galaxy Note 8
(pictured above) and this year's Galaxy S9 and S9+ all feature fingerprint scanners on the rear. An in-display sensor on the Note 9 could mean not just a design change, but also increased battery life, as Samsung would have more room to pack a larger battery cell on the back of the handset.
Earlier today, we heard that the
Samsung Galaxy Note 9 could be released
at the beginning of August, but this second report from Korea contradicts that with the "late August" statement. We'll just have to wait and see how Samsung's plans are unfolding.
If you're a potential Galaxy Note 9 buyer, would you rather have the fingerprint scanner mounted on the rear, or embedded into the phone's display?
Recommended Stories