We tried the world's first in-screen fingerprint reader and it worked fine
53
The first fingerprint reader built inside the display of a phone is here and we got to take a first look at the technology at CES 2018.
Unfortunately, it was not Samsung, LG, HTC or any other major Android phone maker that has introduced the new feature, but Chinese phone maker Vivo. The tiny chip is integrated under the AMOLED display of the Vivo phone and uses optical technology to read your fingerprint and... it works well! The technology behind it is actually made by Synaptics and below you will find a detailed explanation of the tiny new chip that sits under the screen glass and what it does, but first - the real impressions.
The best thing about this implementation of a fingerprint scanner is that it looks practically invisible. The chip itself is tiny, so Vivo puts a visual cue to where exactly you have to press in order to unlock the phone. Place your finger there, wait for a split second and the phone will unlock with a cool animation taking place. It is just a bit slower than what you might be used to from a traditional fingerprint scanner, but not much slower.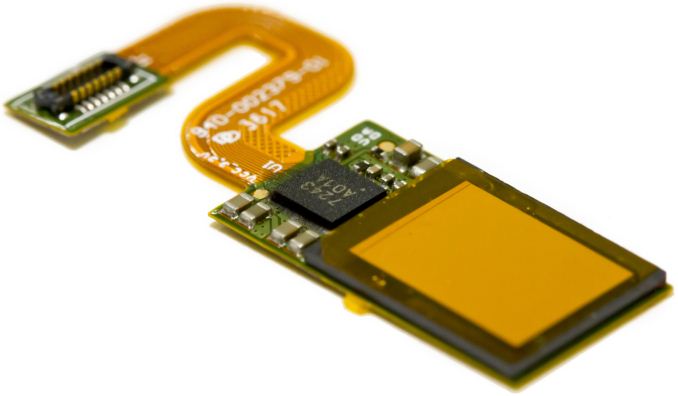 This tiny chip - the size of a fingernail and just 0.69mm thick - sits invisibly below the AMOLED screen and makes the magic possible
As to the technical part and the chip itself, it is the new Synaptics Clear ID FS9500, a tiny chip the size of a fingernail designed to work with phones with an 18:9 and 20:9 orientation. The Clear ID SF9500 sensor itself measures just 0.69mm in thickness and does not make smartphones significantly thicker. It is a CMOS device, designed to be placed below an AMOLED screen. In order for it to work, the finger has to be illuminated, so that the fingerprint scanner can read the reflections of the finger scan. To create this reflection, part of the screen has to light up, and then the finger reader will capture the reflection between the AMOLED pixels. Synaptics says that the fingerprint scanner itself is very frugal, consuming merely 80mA of power. The whole setup also uses the built-in accelerometer in the phone and other sensors to know when to activate the fingerprint reader and light up the appropriate part of the display.
The overall process takes just 0.7 seconds, not quite as fast as the 0.2 seconds that are commonly advertized for traditional fingerprint scanners these days, but still faster than the average of 1.4 seconds it takes to use face recognition.