Samsung Galaxy Note 4 vs Sony Xperia Z3 blind camera comparison: you choose the better phone
65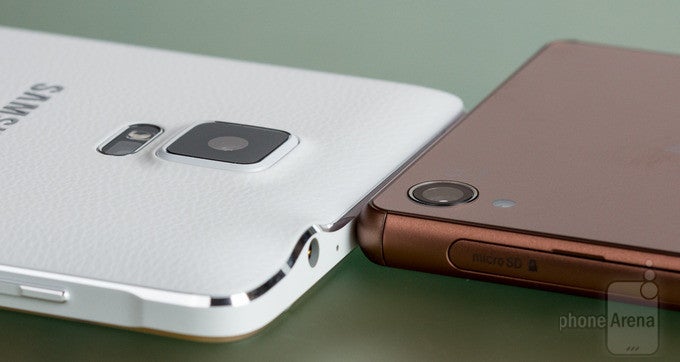 Voting for this blind comparison is now closed. See the results below.
Alright, smartphone aficionados and camera buffs, we've got something that's surely going to draw your attention. It is time for another blind camera comparison of ours, and the contestants we've chosen indeed have plenty of potential in the field. In the left corner, equipped with a 16MP camera, F2.2 aperture, OIS, and 1/2.6 sensor, we have the
Samsung Galaxy Note 4
– the winner of our
previous camera comparison
and many more before it. And in the right corner stands the
Sony Xperia Z3
, packing a 20.7MP camera with F2.0 aperture and 1/2.3 sensor. Who's going to be victorious at the end of this race? Well, it all depends on our valued readers' votes.
In the galleries below you'll find photos of six scenes captured with the Samsung Galaxy Note 4 and the Sony Xperia Z3 under identical conditions. Both phones had their cameras set to their automatic modes, with their flashes and HDR modes disabled, and the produced images were scaled down to the same resolution to make it harder to guess which photos belong to which phone. It's a blind camera comparison after all. All we ask from you is to take a good look at the pairs of photos and to vote for the image you like best. Take a look at the close-up crops we've included, but don't forget to examine the scene as a whole as well using the provided side-by-side and high-res samples. Voting will end in a few days, and the winning phone will be announced shortly after.
Scene 1
It was a warm yet cloudy afternoon when we captured this shot. We have reds and blues in the scene, the saturation of which is great for judging color accuracy, while the bushes contain plenty of fine details waiting to be examined. There's a cute puppy too, if you take a closer look.

Side-by-side preview
Scene 2
Minutes later, our walk through the park brought us here. This image demonstrates how the two cameras handle details and sharpness in their images. Both snappers have high-res sensors, so we didn't really expect to see much of a difference in the results from such a test. Yet there is some. Color representation also differs.

Side-by-side preview
Scene 3
For this scene, the setting sun's rays were making their way through the cloudy sky, providing additional light and warmth. While the spot is great for taking detailed camera samples, it is also suitable for a first date.

Side-by-side preview
Scene 4
Hungry yet? Our improvised nature morte shot might make you. It's a scene taken indoors, with some natural light coming through a window at the side. The cameras' color accuracy can be judged by looking at these two images.

Side-by-side preview
Scene 5
This pair of images was taken indoors, with a bunch of CFL bulbs providing warm white light. It's a tricky scene to capture due to the non-optimal conditions and because flash wasn't used. Take a close look to examine how well the cameras perform in low light – how much noise they allow to occur and how much detail they can capture.

Side-by-side preview
Scene 6
And lastly, we have a night scene – the kind where light is scarce, thus posing a true challenge to any camera. Still, both cameras seem to have done a respectable job.

Side-by-side preview