Samsung Galaxy Note 3 hands-on
99+
Pounding the competition for nearly the first portion of the year, Sammy's Galaxy S4 has been tearing up the scene with no end in sight. Following in close pursuit, however, the highly awaited third incarnation in the Galaxy Note smartphone series is about to embark on its own trip as establishing itself as the premier phablet/tabphone in the space. Today, we're finally able to see the Samsung Galaxy Note 3 in all of its glory, but the question that remains, is how much better this is than its predecessor?
Design
Did we expect anything drastic with the design? Seriously, this is Samsung we're talking about! It's distinctively a Samsung smartphone, as it follows the same design cues and characteristic found with the recent Galaxy S4. However, there's one refreshing change – it's now doused in this stitched leather-like tough material, something that's new from Samsung. At its core, though, it's still a plastic device at heart that's super thin (8.3mm) and lightweight for its size, but it's the size that continues to be a prominent element with the smartphone – it's just, you know, so darn big. Needless to say, it's a handful and it still requires two-handed operation, well, that's unless you have extra-large sized hands, which means it's going to be the perfect size for you. Oh yeah, did we mention that there's also a slot for the S-Pen too? Not much of a surprise at this point.
Looking at what Sony is doing in the phablet space, the design in play with the Galaxy Note 3 is starting to lag behind – to the point that it's becoming stale. Indeed, the subtle improvements are all there, like its smaller footprint than its predecessor and always slimming profile, but in the greater scheme of things, it's lacking a sufficient amount of fresh elements to make it a stand out looker against some other prized smartphones in the same category. It's not premium, which is evidenced by its continued choice of employing a plastic frame – nor does try to explore new elements to its design to shake things up. Then again, they'll have it available in a blush pink color, on top of jet black and classic white colors.
S-Pen
Continuing to rely on an S-Pen, the one here with the Galaxy Note 3 boasts a few improvements that continue to deepen its functionality and worth – dot, circle, and box, that's what you'll need to remember. Hovering the tip of the S-Pen over the display, we simply press the dot/blip on-screen to get Air Command, which then allows us to access 5 S-Pen specific features at any time. Another new feature is Pen Window, which layers another app on top of another by essentially drawing a box with the S-Pen. Hardcore memo takers and avid business oriented users will no doubt appreciate the new features and all that are in tow with the new S-Pen, but it's confusing trying to remember each and every function. It's extensive needless to say, however, it's deviating from the key aspect of being simple and intuitive. To tell you the truth, it's rather overwhelming. And are people really going to remember and use all these new features?
Display
Okay, it's not breaking new ground when it comes to display sizes, but at least the Galaxy Note 3 puts forth enough improvements with its display to continue making it one of its strongest highlights. To be exact, there isn't a whole lot new here per se, since it's flaunting a 5.7-inch 1080p Super AMOLED display, which not surprisingly, employs the same technology as its predecessor to enables us to use the new S-Pen to hover over certain elements. Additionally, they've improved upon its multi-window functionality – such as being able to have two ChatOn conversations windows happening simultaneously.
However, the nice subtle improvement seen with the display is in how Samsung is able to minimize the bezels surrounding the left and right sides of the panel. It's one thing to stand out if it's a true
edge
-to-edge display, but as we've seen countless times already, that's not the case here. As a whole, it has all the same qualities we currently see with Samsung's existing AMOLED panels – like is vibrant color reproduction, deep black color, and wide viewing angles. Naturally, it shines brightly in darkly lit areas, but overall, there's nothing particularly innovative here.
Interface
Following in the same footstep as other recent Galaxy branded devices, the Note 3 is also running the same customized TouchWiz Nature UX experience found on the Galaxy S4 – albeit, it's on top of Android 4.3 Jelly Bean from the onset. Visually, there's nothing different whatsoever this time around, as the look, feel, operation, and general functionality of the experience are identical to the tooth. Yes, it's still somewhat cartoony looking, but it still proves to be one of the most comprehensive offerings out there. Generally speaking, it shares many of the same features as its close sibling in the Galaxy S4, but it lacks the cool Air Gestures that are used by the Galaxy S4's experience. Instead, Samsung continues to focus on the S-Pen related apps with the smartphone, which now features several new enhancements that seem to deepen the multi-tasking and organizational elements of the experience.
Seriously, the experience is rather tough to learn if you're unfamiliar with Sammy's custom Android experience – especially these new functions that are accessed by the S-Pen. In fact, there are so many features in tow that is feels a bit overwhelming at times, since there's just so much to remember and master. On top of that, we feel as though the Note 3's experience is targeting a specific demographic (think business-end users), as opposed to appealing to a broader audience that the Galaxy S4 so happens to focus on. When it comes down to it, you'll need to have a bit of background knowledge to Samsung's custom experience, seeing that newbies can easily get frustrated trying to pick up the handset from the beginning.
Processor and Memory
Unfortunately, Samsung didn't talk too much about the handset's internal hardware. Quite frankly, there's nothing totally ground breaking in this particular section too, since its hardware was easily predictable before being officially outed. Depending on the market, the Samsung Galaxy Note 3 will be powered either by a quad-core or octa core processor. Specifically, the 4G LTE variant will be packing along a 2.3GHz quad-core Qualcomm Snapdragon 800 chipset – while the 3G enabled one seems to benefit more with its 1.9GHz Exynos 5 Octa core processor. Stepping it up even more, the two version will pack on a whopping 3GB of RAM!
Now it's hard to say which version of the handset we're checking out, but regardless of that, we're happy to report that the thing is running mighty fast. Even some live wallpapers don't bog down the performance whatsoever! It's fast, really fast, but it still somehow doesn't feel as snappy as say the LG G2 – or to an extent, the Motorola Moto X. Then again, this is still a pre-production unit we're checking out right now, so it's bound to see some tweaks and enhancements to better its performance.
Samsung is going to make available the Note 3 in both 32GB and 64GB version, but as usual, we're comforted to know that a handy dandy microSD card slot is available to supplement its capacity. Better yet, it simply means quick sharing between other devices and PCs.
Camera
Checking out the camera in the rear of the Samsung Galaxy Note 3, it doesn't pack along one that would seem imposing over other recent offerings. Just earlier today, we heard about the Sony Xperia Z1 and its jacked up 20.7-megapixel camera, but with the Note 3, it's outfitted with a reserved 13-megapixel auto-focus camera, which features a backside illuminated sensor, smart stabilization, high CRI LED flash, and 1080p video recording at 60fps. Heck, there's also a 120fps mode that delivers slow-
motion
videos as well. Looking more at the specs sheet of its camera, it's not trying to outclass the Galaxy S4, but despite that, we're certain it'll produce shots that are equally as detailed and sharp – while also carrying along all those various shooting modes as well to give it a well-rounded offering.
Release Date, Price and Expectations
Currently, Samsung has given the Galaxy Note 3 a release date of September 25th, but it's unclear if that'll also be the time when it'll go on sale here in the US. However, they've neglected to provide concrete details about its pricing. If history has shown us anything, we wouldn't be surprised if this will boast the same $300 on-contract pricing of its predecessors – a steep price no doubt, but for something as massive and feature filled like this, we would totally agree that it's justified. In the back of our minds, though, we feel there aren't enough compelling elements to the Note 3, to make it a home run. Heck, as we look around the field right now, which is undoubtedly rich with some profound devices, the Note 3 seems to taking a casual approach of being complacent – allowing the competition to catch up. Overall, we see all the iterative improvements we'd normally expect to see, like in the specs department, but it doesn't try to innovate further to continue widening itself in the playing field. It'll be interesting to see how this device pans out in final form, and until then, we won't be able to pass a final judgment.
read more
Samsung Galaxy Note 3 hands-on photos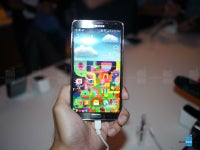 Samsung Galaxy Note 3 screenshots