Samsung Galaxy Note 3 vs LG G2: first look
65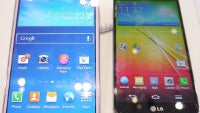 Samsung has just announced its new phablet, the Galaxy Note 3, but LG has also recently unveiled a killer product - the G2, which has already proven to be an amazing smartphone. Seeing that these two devices will soon meet on the market, it was only natural for us to go ahead and produce a quick comparison between them at IFA 2013. Curious to see how these two stack up against each other? Read on to get a sneak peek!
Design
To tell you the truth, the Galaxy Note 3 is quite impressive due to the fact that it has fitted a bigger screen while retaining the dimensions of its predecessor, but we're even more impressed by the relatively compact dimensions and almost zero-bezel design of the LG G2, which manages to fit an amazing 5.2" display in such a reasonably-sized body. Rear keys or not, the G2 is way more comfortable to hold and work with than its phablet competitor.
In terms of appearance, neither device is really a looker, and even though Samsung has tried to come up with a fancy faux leather-like back cover, we wouldn't really say that the result is really good.
Display
Naturally, the Samsung Galaxy Note 3 comes with a bigger screen at 5.7", but the LG G2 is not that far behind with its 5.2 inches. True, the Note 3 will be a bit better when it comes to stuff like gaming and other multimedia consumption, but the difference that this causes in terms of comfort seems a bit too big. If size isn't an issue for you, you should also keep in mind that the Galaxy Note 3 uses Samsung's AMOLED display, which has a significantly lower brightness output, resulting in worse outdoor visibility. We haven't had the opportunity to measure the Note 3's display yet, in order to study its color balance in more detail, but it's safe to say that the LG G2's IPS LCD screen produces more true-to-life colors. Well, for some more in-depth information, we'll have to wait until we have the chance to write a Galaxy Note 3 review.
Interface
Software-wise, both the Samsung Galaxy Note 3 and the LG G2 run Android, but both are heavily customized in terms of UI. We can't really say which one is better (or worse), since both seem to have reached a decent level of usability. One area where the Note 3 differentiates itself is the S Pen stylus, as such isn't present with the LG G2. Samsung has developed a variety of features for the S Pen, but the main things you can use it for are handwritten note-taking and drawing. If the lack of handwriting with a stylus isn't a big issue for you, then the G2 should do the job for you perfectly. Then again, if you're buying a Note, we guess the presence of an S Pen stylus is one of the big reasons for this.
Processor
Silicon, silicon, is there a geek out there who doesn't love silicon? We know we do, and that's why the Galaxy Note 3 and G2 happen to be so likable devices to us. That's because both are equipped with the Snapdragon 800 SoC (System-on-Chip), which is an incredibly powerful mobile processor. In that line of thought, both handsets will be very fast and should never be slowed down by the current generation of software for smartphones.
Both the Note 3 and G2 feature the very powerful Adreno 330 GPU, so you shouldn't have any worries in that respect as well. However, the Note 3 sports 3GB of RAM, versus 2GB for the G2. The extra gigabyte may prove useful for those users who like running many heavy applications at the same time, but in the general case, it shouldn't really provide that much bonus performance.
Camera
Now that's a very interesting area where we'd love to see how the Galaxy Note 3 and the G2 are going to compare. As you probably know, both handsets are equipped with 13-megapixel cameras, and while we're yet to find out how the Note 3's shooter is going to perform, we are certain that it won't disappoint us. Meanwhile, the LG G2's camera has already proven its awesomeness, which is what's making such a comparison all the more intriguing. Stay tuned!
In terms of video recording, the Note 3 is among the very first devices to be capable of recording 4K video, while the LG G2 sticks with the "good old" 1080p. Whether there's that much use in being capable of recording 4K videos is still debatable, but it definitely doesn't hurt having the option. Still, with its superb video-recording quality, the LG G2 will surely be a great camcorder as well.
Expectations
If size isn't an issue for you (which is not the case most of the time), you can always go for the Note 3 - there's nothing to stop you. However, it should be pointed out that the user experience with the LG G2, even when it comes to multimedia stuff like movies and games, isn't significantly worse, and the comfort that you'll get out of having the more compact device shouldn't be understated.
With these things in mind, we now have a basic idea of how the Note 3 and G2 position themselves in relation to one another. Sadly, we'll have to wait some more before we can tell you more, but hopefully it won't be long, since both smartphones are scheduled to hit the market soon. Meanwhile, why don't you tell us which one you like better?