Samsung Galaxy Note 3 vs Samsung Galaxy Note 2: first look
76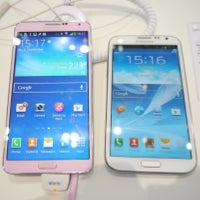 And there it is - the Samsung Galaxy Note 3, right next to its successful predecessor, the Note 2. Obviously, a lot of people out there are sporting Note 2 phablets, so we guess they will be very interested to know whether or not they should consider upgrading to Samsung's newest S Pen-rocking device. So, without futher ado, let's take a quick look at how the two phablets compare!
Design
The best thing about the Note 3's exterior is that it's almost exactly as big as the Note 2, but manages to pack an even bigger screen - 5.7" instead of 5.5". Naturally, that means the Note 3 is still a pretty big device that's not very comfortable to operate. Well, having a giant display has its price! Interestingly, the Note 3 is closer to the original Note than the Note 2, in terms of design language. A peculiar design element is the rear cover, which resembles faux leather, though make no mistake - it's still plastic.
The Galaxy Note 3 is certainly not a looker, but it's not bad either. It has a traditional Samsung appearance and seems to be geared more towards the business type of consumers.
Display
As we mentioned already, the Samsung Galaxy Note 3 packs an even bigger display, measuring 5.7 inches. The resolution is 1080x1920 pixels, which is significantly higher than the Note 2's 800x1280 pixels. As a result, image quality is way better, but of course, the overall quality of colors, viewing angles and so on has also been improved.
It's a Super AMOLED display, so the typical negative aspects of the technology are still here, with colors looking somewhat off, and brightness being not very high, which will most probably translate into mediocre outdoor visibility. Anyway, we'll have to wait until we can review the device to know for sure.
Interface
The Galaxy Note 3 features a slightly update UI from what we saw in the Galaxy S4, but we guess what's more interesting for Note fans are the new S Pen-related features. In that department, Samsung has indeed added a bunch of new functionality. There's the new air command menu that gets initiated in a bit of a weird way. You have to press the S Pen's button and do a hover gesture over the screen. Once you've opened the menu you have the option to do a bunch of things, all of which are more or less different variants of note-taking. Meanwhile, the Galaxy Note 2 sports the standard way of taking a hand-written note by capturing a screenshot and then allowing you to draw on top of it.
Even though the new features of the Note 3 seem fine, we wouldn't really say that they are a must-have. Other than that, Samsung's Nature user interface hasn't changed that much from what's already present on the Galaxy Note 2.
Processor
One area where the Note 3 has received a significant upgrade is under the hood. The new phablet will rely on the Snapdragon 800 processor in LTE markets (read: in the US), while Samsung's Exynos Octa CPU will be user in some limited regions internationally. We already ran a bunch of benchmarks on the Snapdragon 800-powered Galaxy Note 3 and found the device to be performing incredibly well... at least in terms of synthetic benchmarks. You can see how it hadles those benchmarks right here!
Camera
The 13MP camera of the Galaxy Note 3 is also a big upgrade from the 8MP shooter present on its predecessor. We're sure the Note 3 will be capable of taking great pictures, but what's even more intriguing is that it features support for 4K video recording - something that currently only the upcoming Acer Liquid S2 has. Of course, with the Note 2, you'll be limited to 1080p recording, which isn't bad as well, though not as forward-looking as what will be available on the new phablet.
Expectations
It's obviously to early to make any conclusive statements as to whether or not users should upgrade from the Note 2 to the Note 3, but we'll surely provide you with more details when we have the opportunity to properly review the Galaxy Note 3. For now, it looks like Samsung hasn't wasted its time and has produced a new device with a good array of improvements, but we remain unsure if it's absolutely worth the upgrade.