Samsung's foldable Galaxy F will not include Gorilla Glass protection
12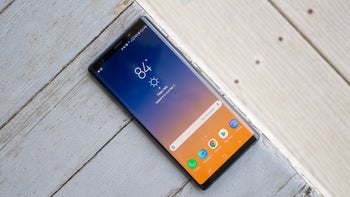 Samsung Galaxy Note 9 with Gorilla Glass 5
Samsung's plans to release a foldable phone
in early 2019
are certainly no secret, but according to a new report, the smartphone's unique display may come with some big durability drawbacks.
As is common with most smartphones nowadays, Samsung's foldable device, which may be called
the Galaxy F
, will make use of a layer of toughened material on the front with the goal of protecting the display panel beneath. Usually, and especially with premium devices, this would mean a sheet of the latest Gorilla Glass on top of the front panel. However, due to the foldable nature of Samsung's next premium handsets, this solution is no longer viable. Instead, the South Korean giant will make use of a new transparent polyimide (PI) that is supplied by Japanese company Sumitomo Chemical. In comparison to
Gorilla Glass
, the new solution is undoubtedly less strong. But its plastic nature will allow it to be both flexible and heat resistant, which are two very important features when it comes to foldable phones.
Now, according to the report, traditional supplier Corning has developed its own solutions for foldable phones. Unfortunately, it seems as though
Samsung
didn't think they were advanced enough yet, hence the adoption of a transparent PI.

As manufacturing of Samsung's first foldable smartphone has still not begun, it's understood that the supplier of the protective layer is still working to improve its solution as much as possible. But with a release expected to take place in January, it shouldn't be too long before the final product enters the manufacturing process.