Samsung Galaxy Beam release date set for July in Europe
3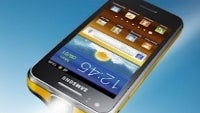 Back, in February, a neat little phone captured our minds - the
Galaxy Beam
set the tone for the show as it was the first of the new announcements and it promised to be the first projector phone for the masses (the
fist Beam projector phone
had a somewhat limited launch), but it's June now, and the phone isn't yet out.
Update:
It's finally coming, though - UK retailer Carphone Warehouse has added the Samsung Galaxy Beam to its list of upcoming phones and it should be out
this
next month. The Galaxy Beam release date is set for July, and the price stands at $600 (£385) off contract.
As to the Samsung Galaxy Beam itself, it definitely takes the highlight with its 15-lumen built-in pico projector, spreading out the lumens into a 50-inch picture with a resolution of 640x360 pixels. The phone manages to still remain not too thick with its 0.49-inch (12.5mm) body. Aslo, it packs the usual dual-core 1GHz processor and both a 5MP rear camera and front-facing snapper.
We gave the Beam's projector a run and it does a decent job in low-lit environments, but of course it's a bit too bright for use in bright sunshine. Still, the Galaxy Beam is a unique phone-projector hybrid, that you might want to take a closer look at - it's all below.