Samsung Galaxy Beam goes up for pre-order in Europe, price revealed
5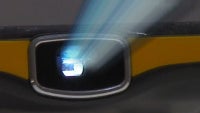 The
Samsung Galaxy Beam
is an unusual Android phone - it looks like the typical slab with a dual-core processor and fairly large, 4-inch screen, but if you take a closer look, you'd notice that it comes with a built-in projector. Shining with 15 lumens of brightness, it will stretch out pictures from that 4-inch screen to up to a 50-inch frame. You can play movies, photos, slideshows, mirror what's on your phone and even highlight stuff with the built-in application. You can also use the Beam's projector as a very powerful flashlight with colors of your choice.
We ourselves find the idea so neat that wouldn't mind having a projector in every handset (do you hear us, phone makers?), but while we wait for those good times, the
Galaxy Beam has just went up for pre-order in Europe
. In the UK, the price to book one of those projector-equipped Samsung Galaxy Beams is nearly $685 (£429.99) off contract.
Now, that's pretty steep, but we should keep in mind that the price doesn't inlcude a subsidy and it's for the enthusiast early adopters.
The Samsung Galaxy Beam spec highlights show a 4-inch WVGA display, a 1GHz dual-core processor, 768MB of RAM, 8 gigs of internal storage expandable via microSD cards, a 2,000mAh battery, both a rear 5MP camera and a front 1.3MP shooter. It rocks Gingerbread, but hopes are that it will get updated to ICS. Don't forget to check out
preview of the Beam
where we get a detailed look at the projector and how it all works.
Recommended Stories