Samsung Galaxy Beam Preview
14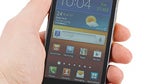 Introduction: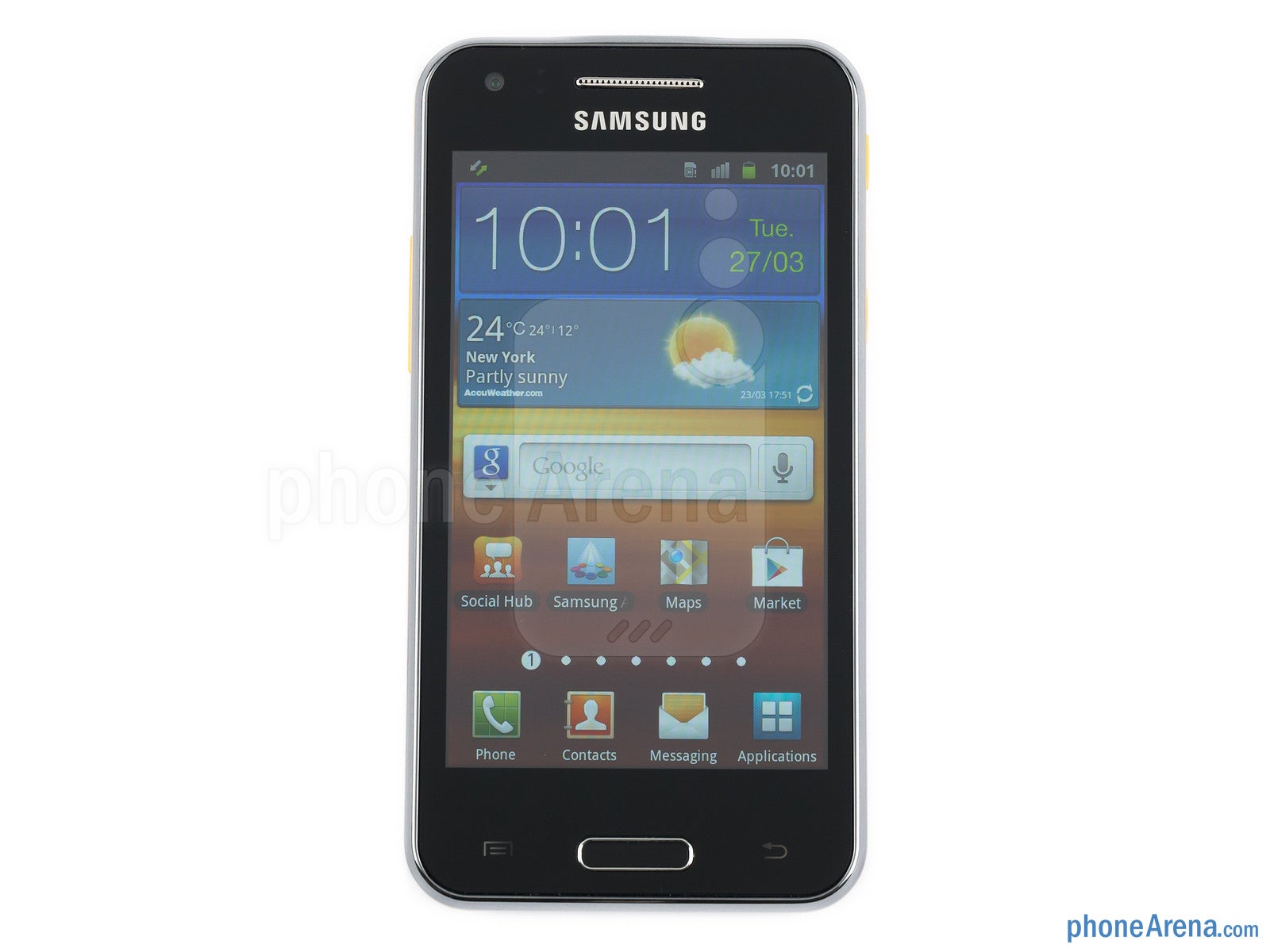 We couldn't be happier to preview one of the more interesting handsets in recent memory – the pico projector-laden Samsung Galaxy Beam. We remember how excited we were in 2009 when we handled the first Samsung phone with built-in projector, the
I7410
, and the next year
when the first Beam made its way to MWC 2010
.
The original Beam-er then crushed our hopes and dreams by never venturing outside of Singapore, except to
entertain some trapped Chilean miners
. Still, those two will stay forever in our hearts as the first phones with integrated projectors, unlike the
LG eXpo
, which had a pico unit as an accessory to tack on.
Announced at MWC 2012, the Samsung Galaxy Beam now sports a projector module of likely
Samsung's own make
that shines with 15 lumen and nHD (640x360) resolution, supposedly enough to create a watchable experience in a low ambient light setting, which can be blown up to 50".
Compare that to the 6 lumen that the pico projector inside its predecessor was capable of, and you will understand why we were excited to take the Galaxy Beam for a spin. Is it living up to our caged desires to watch CSI while camping in Shenandoah, and annoy the heck out of the wildlife there? Read on our preview to find out...
Design:
Graced with jolly bright orange sides, the Galaxy Beam is sure to attract attention as if it's your regular flashy teen-oriented phone for the color choice alone. It's chubby, with a sturdy build, but by no means overly thick at 0.49" (12.5mm), and not at all that heavy at 5.13oz (145g). In fact, it feels and handles very well in the hand, thanks to the ergonomic tapered back with patterned non-slippery back cover made of soft-touch plastic.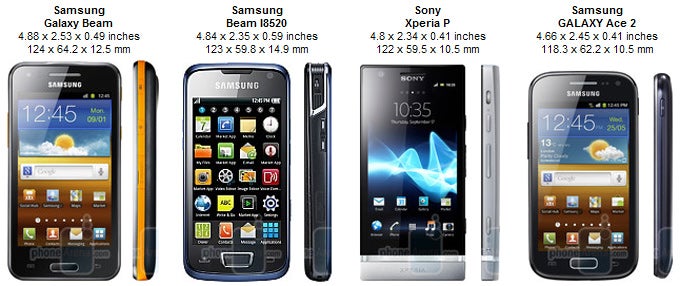 You can compare the Samsung Galaxy Beam with many other phones using our
Size Visualization Tool
.
The only thing that hints at the phone's extraordinary capabilities is the slight bulge above the circular lens of the 5MP camera with LED flash on the back, which incorporates the 15 lumen pico projector.
The
projector
shows what is happening on the phone's 4" LCD screen that is with 480x800 pixels of resolution. The phone's display sports bright, vivid colors, and very good viewing angles, but could use a bit more brightness for easier sunlight legibility, despite that its 416 nits are above average. The 233ppi pixel density is decent, and ensures there are no nasty surprises with pixelation.
There is an on/off switch for the projector above the power/lock key
on the right
. These two buttons, along with the volume rocker
on the left
, are tactile and easy to feel and press even on our non-final unit, as is the elongated physical home button underneath the screen. All slots
are at the sides
, covered with protective flaps, so you can easily swap your SIM or microSD card without prying off the
back cover
, which hides the 2000mAh battery.
Projector:
Samsung is no stranger to making LED pico projectors and currently has the SP-H03 for about $400 on Amazon, for example. While its 30 lumens and 854x480 resolution beat the Galaxy Beam's 15 lumen and 640x360 unit, it is certainly not fit to be housed inside a phone and juiced up by its battery. Samsung says the projector will run for
about 3 hours off the battery
, and there was still some life left when we watched a two-hour movie indeed, but we'll run a complete test when we get the retail unit.
Brookstone sells a similar Texas Instruments unit as an accessory for the iPhone, which also can blow a 640x360 picture up to 50", but shines with 50 lumen. The iPhone accessory case costs $200, though, is bulky and carries a separate battery, so having the thing
integrated in the phone itself
without adding much thickness or weight is a very good engineering achievement on Samsung's part.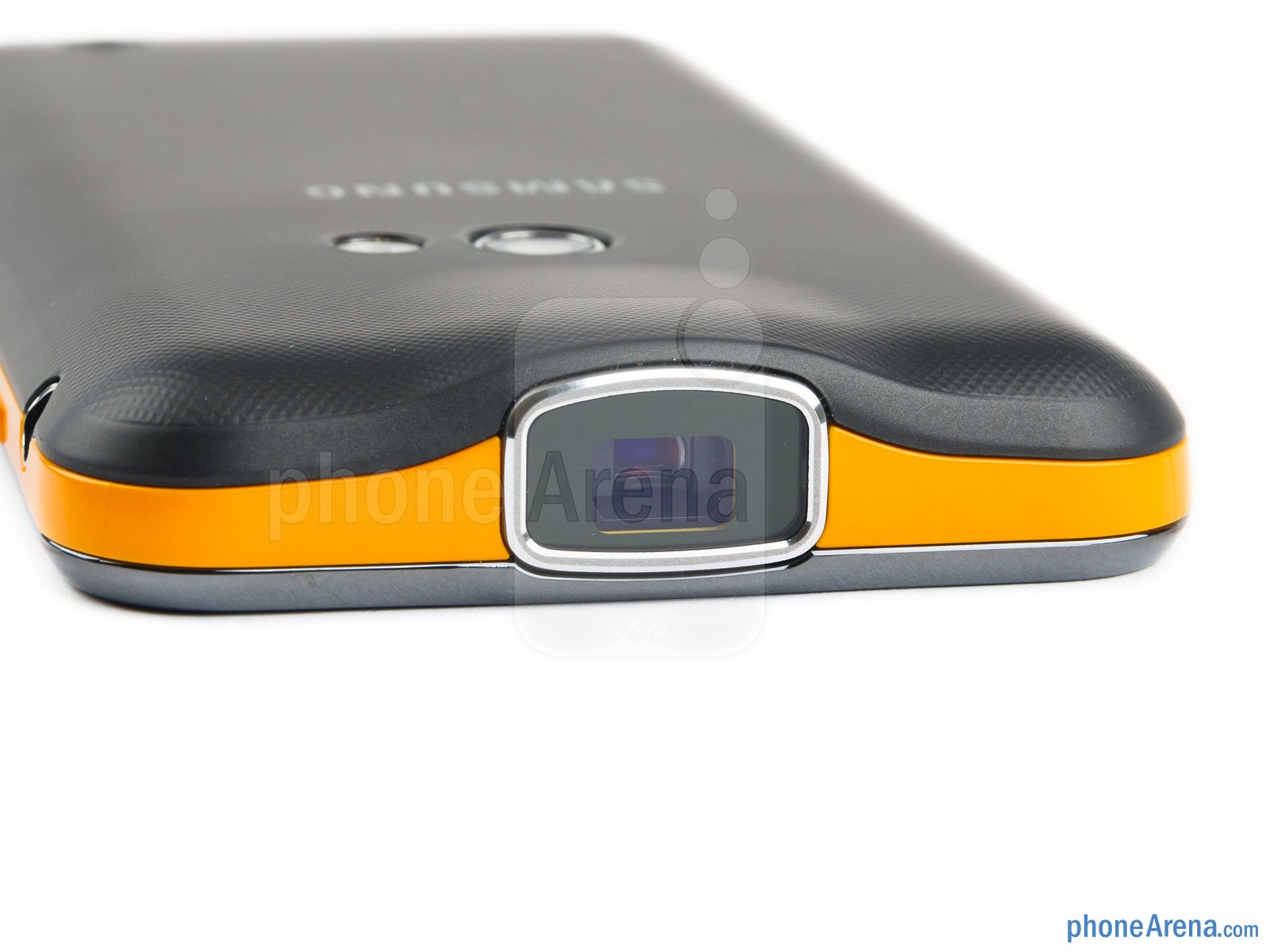 As you can imagine, we took the projector for a spin from broad daylight to complete darkness, and are pleased to announce that the
viewing experience
is pretty decent with the 15 lumen output. The best results were achieved in complete darkness projecting on a smooth white surface, of course, but the phone performed fine with a small amount of ambient light as well, and the image was watchable in smaller 10-12 inch size in your averagely lit room, too. It is, of course, useless outside under broad daylight as it is. The area around the projector warms up significantly during projecting, but nothing scorching hot.
We had a
Projector app
preinstalled on the phone, but it was seemingly not fully interfaced with the pico unit in our prototype, as tapping the focus option or adjusting the brightness slider didn't affect the light output at all, so the final unit image results might be better when these adjustments are present. Have a look at our brief video demonstration of the projector's capabilities below:
Samsung Galaxy Beam Projector Demo:
Samsung Galaxy Beam 360-degrees View:
Recommended Stories