Samsung Galaxy Alpha comes with ISOCELL sensor (plus more samples)
30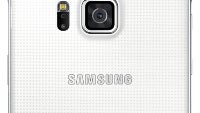 Yesterday, we showed you the
first camera samples out of the 12-megapixel Samsung Galaxy Alpha camera
, but we did not know much about the sensor. We are still trying to dig up more information on it, but Samsung has now confirmed that it's using its own 12-megapixel CMOS image sensor with the ISOCELL technology and a native 16:9 aspect ratio.
ISOCELL is a technology that took years in development and it made a debut in the Samsung Galaxy S5 on a 16-megapixel Samsung sensor. Now, in the Galaxy Alpha we're looking at some of the same features: ISOCELL (but on a 12-megapixel scale, and unknown sensor size) and phase-detection auto-focus.
In its official blog, Samsung promises that images taken on the Galaxy Alpha will come out "sharper than ever with natural colors." Skipping the PR talk, though, we should say that ISOCELL brings a couple of important advantages over non-isolated photo cells used in traditional BSI sensors: first, crosstalk is reduced from 19% to 12.5% in ISOCELL, next, luminance signal to noise ratio improved from 150 lux to 105 lux, and finally, full well capacity increased from 5,000e- to 6,200e-.
So far, Samsung is not revealing much specifically about this 12-megapixel sensor, though. We've heard rumors that the Galaxy Note 4 might also feature a 12-megapixel ISOCELL camera (rumor says the Note 4 might have optical image stabilization, something that is not present on the Galaxy Alpha), so that is one possible reason why more information is not being released just yet. Good news is that the Note 4 is coming in just around three weeks, and - if all those whispers turn out true - we'll learn more about this sensor soon.