Samsung Galaxy A3 & Galaxy A5 (2017) hands-on and up close from CES 2017
15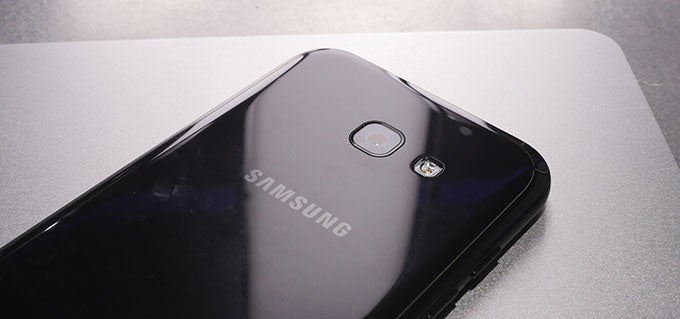 A new year is a time for new beginnings, and when you finished out the past year with the sort of unmitigated disaster that faced Samsung as it dealt with
the Galaxy Note 7 recall
, by now you're looking to move forward, start fresh, and introduce the world to something new. While CES 2017 hasn't introduced us to a new Note, or even the next Galaxy S flagship, Samsung's still getting things started with a trio of new mid-range handsets – a bit of a warm-up, if you will – as it announces the latest generation of Galaxy A-series phones with
a new Galaxy A3, A5, and A7
.
While
none of these phones are due for a US release
, Samsung still brought a couple of them along to show off at CES this year, and we stopped by the manufacturer's booth to go hands-on with both the 4.7-inch Galaxy A3 and the 5.2-inch Galaxy A5.
Design
Samsung's mid-range A-series has never placed a huge priority on looks, and maybe the best way to describe the aesthetics of both the Galaxy A3 and A5 is "unremarkable." And while that may sound like a bit of a dig at Samsung's efforts here, that needn't be the case – if the designs were bad, we'd be calling the company out on its failures, while the look we get here is simple – maybe even elegant – and doesn't really make any huge missteps.
Compared to last year's Galaxy A models, these are just a little less boxy, with larger-radius curves forming the corners of these handsets. Those curves continue around the edge of each phone, as front glass transitions to a metal frame, before moving back to some curved-edge back glass.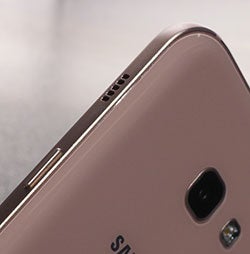 While the new A3 and A5 are ever-so-slightly larger and thicker than their 2016 editions, we're only looking at an extra millimeter here and there, and Samsung's smart use of curved surfaces helps minimize the impact of even that small size increase.
Samsung's updated design also incorporates waterproofing, a new addition to its mid-range lineup, and helping to narrow the feature gap between these affordable handsets and the company's flagships.
Maybe the oddest change, though, is what's going on with the speaker on these phones: Samsung's repositioned its speaker to the right edge of these handsets, just above the power button. That's seriously weird, though Samsung says users should appreciate the way that new placement keeps your hands from blocking audio output while holding the phones in a variety of common orientations.
Whether you're looking at the A3 or the A5, you'll have four color options to consider: black, gold, pale blue, and peach.
Display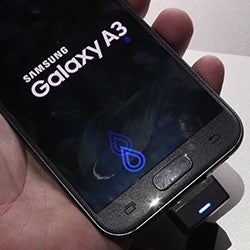 Both the new Galaxy A3 and A5 return with screens that sound a lot like what we saw in 2016: Super AMOLED panels on both, and a 4.7-inch 720 x 1280 display for the A3, while the A5 goes with a 5.2-inch full-HD 1080 x 1820 screen.
The more interesting development isn't the base specs of these screens, but the upgrades coming to functionality. And just like the addition of waterproofing this year, that means picking up some capabilities from Samsung's higher-tier models; specifically, we're looking at always-on display support to give users quick access to things like time and date at a glance.
User experience
Shoppers hoping to pick up the 2017 Galaxy A3 or A5 can look forward to a software experience that's largely in line with the company's pricier offerings. They'll ship running Android Marshmallow, and this year pick up extras that tap even deeper into Samsung's ecosystem of services, with the fingerprint-protected Secure Folder, and magstripe-emulation support for Samsung Pay.
Really, the thing you stand to miss out on the most with one of these A-series models is compatibility with other Samsung accessories; if you're expecting to use your phone with a Gear VR headset or pair it with a Gear 360 camera, you'll want to go a little higher-end, as these mid-tier devices aren't supported.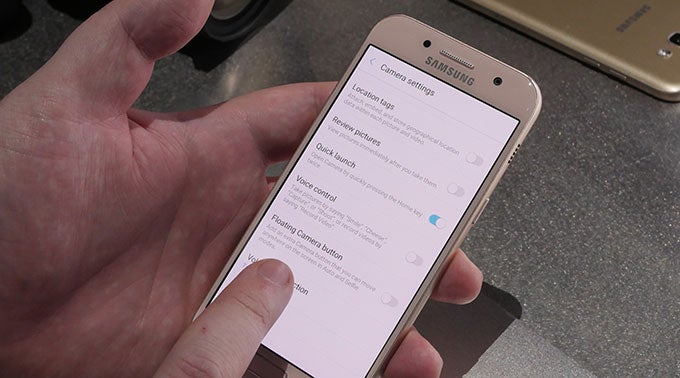 Camera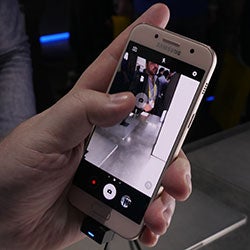 Samsung brings new camera hardware to both these Galaxy handsets. The A3's upgrades are a little reserved, sticking with a 13MP main camera while bumping front-facer resolution up to 8MP. The A5, meanwhile, gets a more significant resolution bump, with 16MP sensors available both front and back – though at the cost of optical stabilization.
On the software side you'll find an assortment of filters and situation-aware shooting modes (like one for capturing pics of delicious-looking meals before you devour them), as well as some useful-looking interface enhancements like a movable shutter button that allows you snap a selfie even when you've got a less-than-ideal grip on the phone.
Battery
A quick hands-on doesn't afford as much opportunity to do any real battery-life analysis, but both the 2017 Galaxy A3 and A5 land with batteries that offer somewhat more capacity than their predecessors. It's not a huge increase with either, but it sure beats one of those batteries coming in smaller than before.
As only fitting the times they launch in, both phones charge over the new USB Type-C interface – and frankly, it would have been embarrassing if they had stuck with micro-USB. Of the two phones, only the new Galaxy A5 manages to take advantage of quick-charge tech.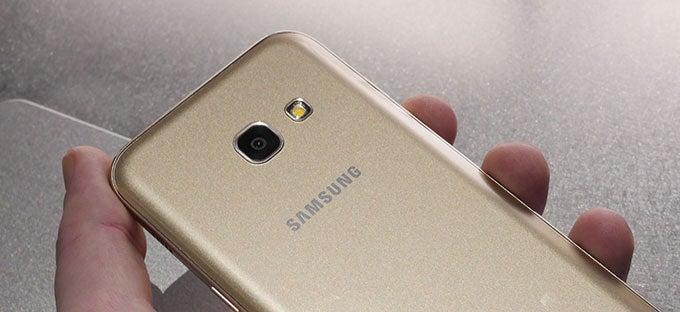 Expectations
It's great to see a number of features from flagship Galaxy devices trickling down to Samsung's mid-rangers, helping it feel like we're getting more and more for our money each year. Of these two new A-series models we've been able to go hands-on with, the new Galaxy A5 feels like a slightly more substantial upgrade – though we're very happy to see waterproofing come to the smaller A3, as well.
And while Samsung didn't have the Galaxy A7 on-hand for us to see, the upgrades you'll find there are very much in line with the Galaxy A5: same cameras, same 3GB of RAM, and same screen resolution – just with a larger 5.7-inch display.
All that leaves us excited to spend some more time with all these new A-series handsets, though depending on where you're located, that could take quite a while: Russia will get access in a few weeks, and while other markets will follow thereafter, Samsung hasn't shared details on its timetable.