Samsung Galaxy A3 (2017) Review
8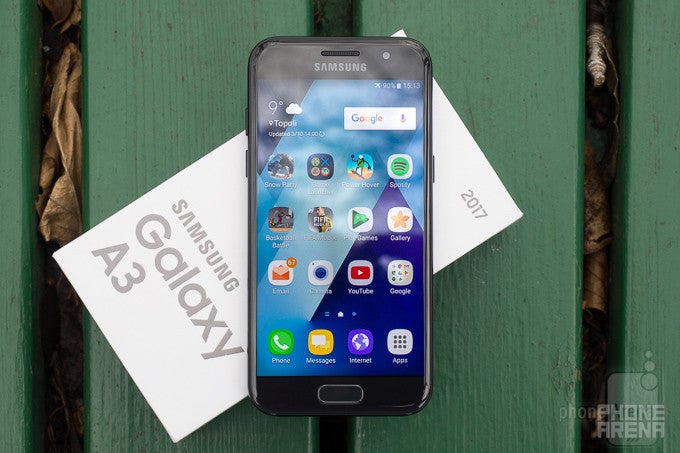 Update

: You can now read our Galaxy A30 review!
Introduction
For a third time in a row, Samsung starts the year by releasing three new mid-range phones of the Galaxy A series, and the 2017 edition of the lineup is the most impressive yet. Samsung has made three phones that have an exceptional look and feel, just like its most expensive phones, and the new
Galaxy A3 (2017)
is the most compact, the most affordable and the cutest of the three.
The new A3 (2017) is a 4.7-inch phone with a Super AMOLED display and a look nearly identical to that of the
Galaxy S7
with the same stylish glass and metal construction, and even the same high water protection rating, a first in a phone in this price class.
Clearly, Samsung has taken some shortcuts: the new A3 uses a less powerful chip than the top dogs, features less storage and makes some other compromises, but can its low price make up for that? Let's find out and take a deeper look.
In the box:
Samsung Galaxy A3 (2017) model SM-A320F
User Manual
SIM ejector tool
USB-A to USB-C cable
White Samsung earbuds with replaceable rubber tips
Wall charger (7.75 watts peak, 5V and 1.55A)
Design
Designed to near perfection, with a curved glass back, metal frame and full-on water-protection.
The Galaxy A3 (2017) is as good as phones get in terms of looks. We have the beautiful, deep black glossy version up for review, a glass-and-metal construction that feels so solidly, so well put together, we'd forgive you if you mistake it for a much more expensive phone (it helps that it also looks almost exactly like the S7). With a slight curve on the back and a compact size, the new A3 feels extremely comfortable in the hand. It's thinner than you'd expect and it's nicely balanced, with some weight to it that prevents it from feeling too airy or hollow: it feels monolithic. Every little aspect of this phone feels thought out, and even the side buttons are made out of metal and have nice travel and feel.
The one practical downside of having a beautiful glass phone, however, is the way its back catches fingerprints with an incredible ease and quickly turns into a smudgy mess that you have to clean or protect with a case. This was very noticeable on the black version that we have for review, but it might not be so noticeable with other colors: Samsung is also offering the phone in Gold Sand, Blue Mist, and Peach Cloud.
Another key feature of the A3 is its very compact physical size: it has a 4.7-inch display, but it also has very narrow side bezels, so overall the phone is actually even smaller than the already compact
iPhone 7
. It's not quite iPhone SE like, but it is still definitely very comfortable for single-handed use.
We're also glad to see that Samsung has finally done away with microUSB, and even this affordable new A3 has the cool new reversible USB-C port. The handset also has a good ol' 3.5mm headphone jack for your headphones, speakers and AUX cables.
But the new A3's special 'superpower' is without a doubt its water proofing. The phone is officially IP68 certified, it's one of the cheapest phones we've ever seen with this new feature. The IP68 rating means that the phone is tested and will withstand water damage when submerged as deep as 5 feet (1.5 meters) for up to 30 minutes. The benefits are clear: you don't need to worry about getting your phone wet, you can take it for those summer pool-side parties and it will even survive the surprisingly common drop in the toilet.
Display
A 4.7" Super AMOLED HD screen with surprisingly great colors and quality.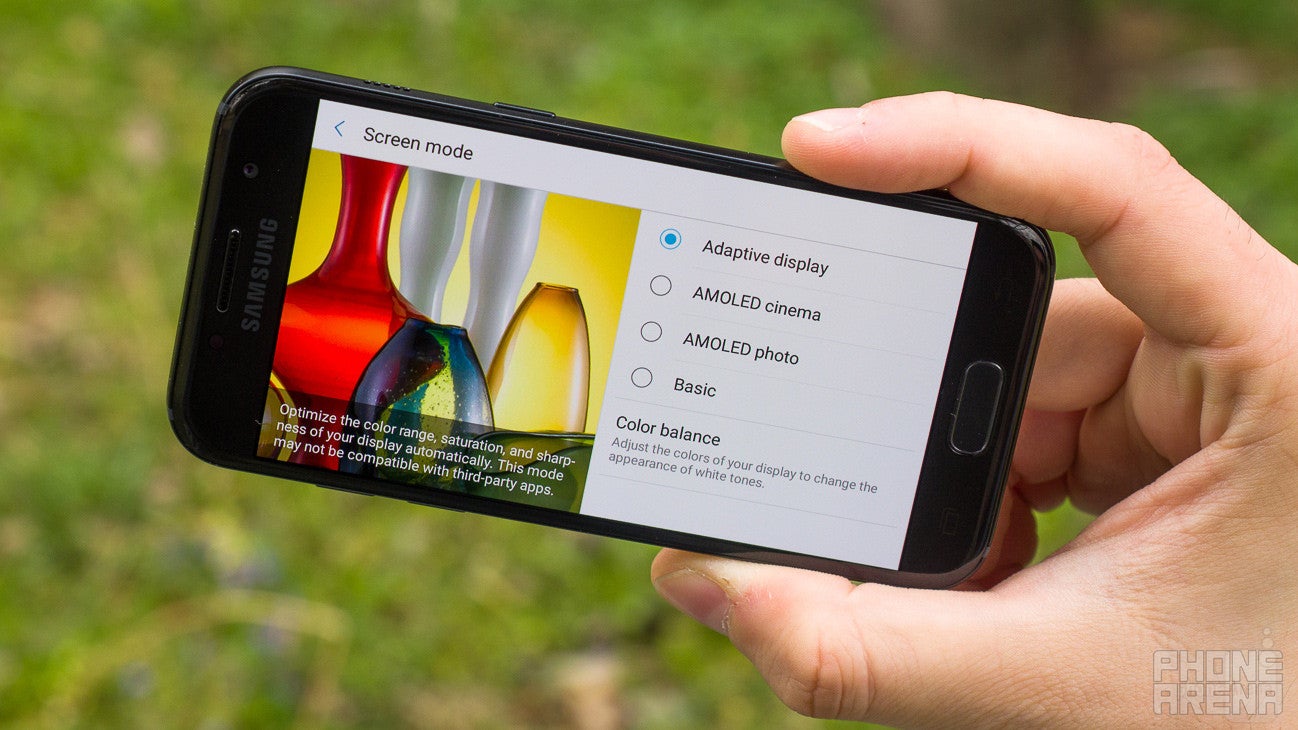 The Galaxy A3 (2017) features a 4.7-inch Super AMOLED display with a resolution of 720 x 1280 pixels. And it's a PenTile display as well, meaning that it has less color in every pixel than a regular RGB screen, so it's not as sharp as one. Is this a big deal? Not really: this is definitely not the sharpest screen out there, and if you look up close you can see slightly jagged edges on some icons and most notable in text, but when using your phone regularly this is barely noticeable.
These days, it is not resolution and sharpness that lacks in phones, but good colors. That's why we were pleasantly surprised to see the affordable Galaxy A3 sport some very good-looking colors. The screen itself is nicely smooth, so your finger glides effortlessly on the glass, and overall colors are well tuned to the sRGB color standard that is used universally for photos and videos. Whites are just a little bit on the blue side, and everything is just a bit brighter than ideal due to the lower gamma, but overall this screen is really great for a phone of this price class.
Samsung also allows users to change the color reproduction of the screen: go into Settings > Display > Screen Mode, and you get to choose from four different modes. The Adaptive mode brings color saturation up, making for more eye-popping, impressive visuals that are not that realistic, while Basic is the closest to industry accepted standard and we recommend using this mode.
The screen can also get very bright, so it's easy to use the phone outdoors under the harsh sunlight. It can also neatly go down to just 1 nit (the lowest level we measure) at night, which makes it easier on the eyes and more pleasant to use. Samsung now includes the useful Blue light filter in the new A3. You can customize it to automatically start working at night and ensure that you have no blue light beaming at you and preventing your brain from making the chemicals needed for you to fall asleep.
The A3 also has 'Always-on Display' mode that shows you the time, date and the type of missed notifications even when your screen is locked (but not the actual notifications). The letters are well contrasted and easy to see, but be warned – this will have a noticeable impact on battery life.
Display measurements and quality
Recommended Stories