Samsung GALAXY Tab 7.0 Plus breaks cover, runs Honeycomb and sports a 1.2GHz dual-core processor
11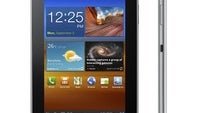 The Samsung GALAXY Tab 7.0 Plus has been officially announced
, which brings yet another Honeycomb-flavored tablet to the scene. What we are dealing with is a device meant to be a successor to the original 7-inch GALAXY Tab, which debuted about a year ago, and standing a tad below the recently unveiled
Samsung GALAXY Tab 7.7
in terms of specs.
Just like the very first
GALAXY Tab
, the 7.0 Plus sports a 7-inch touchscreen display with 1024 by 600 pixels of resolution. This time, however, the display is of the PLS type, which should translate into superior viewing angles and a 10% boost in brightness when compared to IPS LCDs. The Samsung GALAXY Tab 7.0 Plus is also lighter and slimmer than its predecessor tipping the scales at 12.16 ounces (345 grams) and boasting a waistline of 0.39 inches (9.96 millimeters).
What provides the GALAXY Tab 7.0 Plus with processing power is a
1.2GHz dual-core chip
accompanied by a gig of RAM. That should be enough processing punch to allow for 1080p HD video to play back smoothly. The tablet is also equipped with a 2-megapixel front-facing camera for video chats and a 3-megapixel main one capable of recording 720p footage.
In terms of software, the Samsung GALAXY Tab 7.0 Plus will come with
Android 3.2 Honeycomb
out of the box. Of course, Samsung's very own TouchWiz interface will be installed on top of it along with a bunch of handy apps provided by the company, namely Social Hub, Readers Hub, and Music Hub. Last but not least, the tablet will be equipped with a
21Mbps HSPA+ radio
meaning that you will be able to stay connected to the web even when on the move.
Although folks in Indonesia and Austria will be the first ones to get a taste of the Samsung GALAXY Tab 7.0 Plus, which will happen by the end of October, the tablet is expected to become available in the US eventually. It will also be sold across Europe, Latin America, Southeast and Southwest Asia, CIS, Latin America, Africa, the Middle East, Japan and China.
UPDATE:
Our eagle-eyed readers have pointed out that the Samsung GALAXY Tab 7.0 Plus has a dialer icon on its home screen, which is a clear indication that it will be able to make phone calls like the old-school GALAXY Tab could. There also appears to be an earpiece above its display.
Samsung reloaded more possibilities on the go with GALAXY Tab 7.0 Plus
Advanced 7-inch tablet experience on the go within a premium design
SEOUL, Korea – September 30, 2011 – Samsung Electronics Co., Ltd, a leading mobile device provider, today announced the launch of the GALAXY Tab 7.0 Plus. Offering a portable, rich multimedia experience on a 7-inch display, the GALAXY Tab 7.0 Plus packs power and productivity into a chic lightweight design. The GALAXY Tab 7.0 Plus runs Google AndroidTM Honeycomb, enabling an easy and intuitive user experience.
"Samsung pioneered the seven-inch tablet market with the launch of the GALAXY Tab, marking an innovation milestone in the mobile industry. Building on the success of the GALAXY Tab, we're now delighted to introduce the GALAXY Tab 7.0 Plus reloaded with enhanced portability, productivity and a richer multimedia experience" said JK Shin, President and Head of Samsung's Mobile Communications Business. He added "GALAXY Tab 7.0 Plus is for those who want to stay productive and in touch with work, friends and content anytime, anywhere."
With 7-inch display, GALAXY Tab 7.0 Plus provides enhanced portability, weighing just 345g and measuring at just 9.96mm thin. Enhanced portability ensures that it fits easily into an inside-jacket pocket or a handbag, making it an ideal device for those who need to stay productive and entertained while on-the-move.
GALAXY Tab 7.0 Plus delivers a smooth and intuitive user experience with powerful performance powered by 1.2GHz dual core processor. Mini Apps allows seamless multitasking by consolidating 7 applications easily accessed from a bottom-side tray on main screen. Users can launch favorite features such as music player or calendar as pop-ups over full screen applications. Not only that, users can design an individualized up-to-the-minute interface through Live Panel.
Web browsing is also enhanced by Adobe Flash and super-fast HSPA+ connectivity, providing download speeds up to three times faster than a conventional HSPA connection. On top of that Wi-Fi Channel Bonding bonds two channels into one for improved network connection and data transfer at up to twice the speed.
Furthermore, the GALAXY Tab 7.0 Plus offers voice and video call support, with no need for a headset.
Users can see friends and family from anywhere in the world in high quality thanks to the device's larger screen.
Rich Multimedia on-the-move
Full HD videos can be enjoyed on the 7-inch WSVGA PLS display, with DivX & multi codec support ensuring the device is capable of supporting a variety of different formats. An improved virtual clipboard, which stores text and images enabling easy copy and paste, further adds to these capabilities.
Additionally, the GALAXY Tab 7.0 Plus features Social Hub, Readers Hub and Music Hub services. Social Hub aggregates the user's contacts, calendar and email along with instant messaging and social networking connections all within one easy-to-use interface. Readers Hub provides e-reading content such as e-books, newspapers and magazines. Music Hub enables access to over 13 million songs even when out and about.
GALAXY Tab 7.0 Plus will be available starting in Indonesia and Austria from end-October and gradually rolled out globally including Southeast and Southwest Asia, US, Europe, CIS, Latin America, Middle East, Africa, Japan and China.