Samsung GALAXY S II - U.S. introduction highlights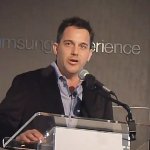 You guys should know that we care for our readers so much, that we always try to get you the best content possible, especially when it comes to high-profile events, such as Samsung's introduction of the U.S. GALAXY S II versions. As you're well aware, the event was held in NYC, and we were right there, in order to report to you live, as well as to share our very first impressions of the new, sizzling-hot smartphones. Just in case you've missed them though, here are our hands-ons with the Sprint Epic 4G Touch, T-Mobile GALAXY S II and AT&T GALAXY S II.
But we guess your thirst for Samsung GALAXY S II knowledge isn't fully satiated yet, so how about a video, containing all the important moments from yesterday's announcement? Well, here it goes!