Samsung Droid Charge root solution emerges to shakeup your warranty
9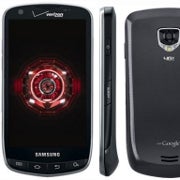 If you happened to grab the
Samsung Droid Charge
with its 4G LTE connectivity and unique Super AMOLED Plus display, you've noticed that the usual rooting solutions don't leave a scratch on the device, even though you are nonchalant about voiding the warranty.
Now there is a way to gain complete access to the Samsung Droid Charge, which you might want for various reasons. While it's not advisable to potentially void warranty this way, since the root method is permanent, it is still nice to know that you have options.
You will need the ChargeRoot file from the source link, as well as the Android Software Development Kit, which can be downloaded off of Google's Android website. The SDK requires a fair bit of components to be installed, but once you follow the step-by-step instructions, it is fairly straightforward. A nice video how to install it can be found on YouTube, and hit the source link below for further instructions, if you feel like gaining root access to your Samsung Droid Charge.
The process is fairly convoluted, and requires typing in command lines, so if you don't feel like playing developer don't bother with it, unless you love tinkering with your phone more than the risk involved.
source:
AndroidAuthority