Samsung salivates over projected 5G phone prices, touts the Note 10's S-Pen
18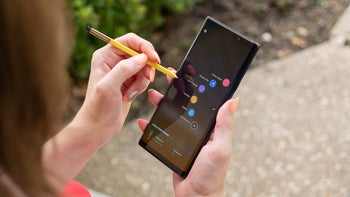 During its Samsung Investor Forum 2019 keynote, company chiefs took the stage to express their confidence in the future of the cell phone industry that will apparently be shaken up by foldables with 5G connectivity. "
5G will trigger the demand to replace people's phones, and will serve as a driving force for the smartphone market
," according to Lee Jong-min, a senior vice president of Samsung Mobile.
So much so, that Samsung is already
expecting
to pull ahead in average phone selling price (ASP), after it was one of the first to market with the excellent
Galaxy S10 5G
. By the time 5G phones (and networks) become ubiquitous in 2022, Samsung expects them to add so much value that they would command almost double the ASP of regular phones on the LTE standard.
As you can see in the slide below, Samsung pegs 5G phones to go for $534 on average, which could easily mean that the retail price of the high-end models is expected to surpass the psychological $1000 threshold. The S10 5G, for instance, carries a tag of $1300 over at the Samsung US store.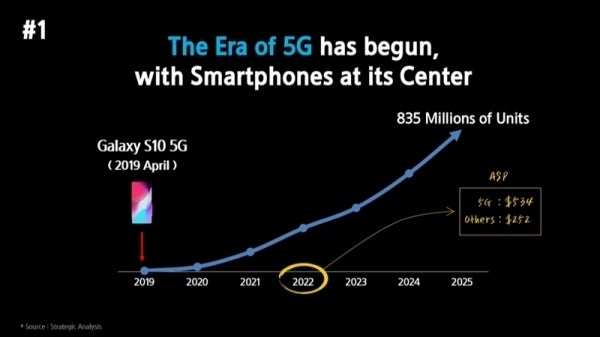 While Samsung is salivating over the prospects of higher 5G phone prices, it is working hard to be first with true 5G modem integration into its Exynos chipset, which would be bad news for Qualcomm, whose next-gen modems are still a separate affair. Moreover, Samsung plans to double down on foldable form factors, it turned out.
In addition to the tablet-type first-generation Galaxy Fold, there's going to be other types available soon. I'm using the Galaxy Fold in order to check e-mails and watch videos, and it's beyond useful.

Last we heard, the
Fold 2
may bend over the horizontal axis like the upcoming foldable
Motorola RAZR
, and have a much smaller, 6.7" footprint than the original Fold which is yet to be officially launched in the first place. Samsung's exec also had a few good words to say about its next high-end phone, the
Note 10
, that is about to be unveiled on
August 7
.
The S-pen in the upcoming Galaxy Note 10 scheduled to be launched in August will show a much improved performance.
We can't wait to see the Note 10 stylus in action, too, but Samsung doesn't just have plans for its top-shelf phones. Its strategy to equip the midrange A-series with unique features like flip cameras or under-screen biometry first seems to be paying off, at least according to Mr Lee.
Our decision to apply innovative functions to low-end products first proved to be right. We will continue to release products based on the market response.