Samsung Galaxy Fold vs the foldable Motorola Razr: how are they different?
8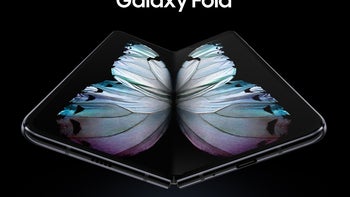 With big names like Samsung and Huawei investing heavily in this new form factor, it seems safe to say that foldable phones are here to stay. And we have nothing against that. The smartphone space was starting to feel stagnant with all offerings looking pretty much identical, so a little meaningful innovation is more than welcome right now.
What we don't mind either is that a particularly well-known brand may be about to launch a foldable smartphone of its own. Rumor has it that Motorola is working on a foldable Razr phone, and just recently, leaked renders gave us a glimpse of what that phone might look like. Long story short, the foldable Moto Razr could end up being very, very different from the highly anticipated Samsung
Galaxy Fold
.
There's more than one way to fold a screen
With its foldable smartphone, Samsung aims to deliver a truly big screen that fits in your pocket. And indeed, the Galaxy Fold feels quite like a small tablet when opened, offering over 50% more screen area than an
iPhone XS Max
, for example. And when folded, it kind of resembles two narrower
Galaxy S10+
phones laid on top of each other. It still big, but definitely pocketable.
Motorola, on the other hand, wants the foldable Moto Razr to feel like a normal modern phone when unfolded. According to rumors, the device will have a tall, 6.2-inch OLED display that folds inwards in half. This would make for one truly pocket-friendly, cool-looking smartphone that's smaller, but more compact than the Galaxy Fold.
Galaxy Fold Display Specs
New Motorola Razr Display Specs (Not Confirmed)

Size: 7.3-inches

Aspect ratio: 4.2:3

Resolution: 1536x2152 (362ppi)

Secondary display: 4.6-inch Super AMOLED touchscreen, 720x1680 pixels

Size: 6.2 inches

Aspect ratio: 22:9

Resolution: 2142 x 876

Secondary display: Touchscreen, Size and resolution unknown
This alternative approach would give the folding Razr another key advantage over the Galaxy Fold – the option to be opened with a single hand, much as you could flip open a classic Razr from 2004.
In contrast – and there's no way around this – accessing the big screen of Samsung's foldable phone is a 2-hand action. Samsung knows this well, which is why it put a secondary display on the outside of the Galaxy Fold. It's a fully functional touchscreen displaying a mini version of the Android interface, allowing you to access apps and interact with notifications without having to unfold the device.
Judging by what's shown in patent applications, Motorola's folding phone will have a secondary screen on the outside as well, but leaks indicate that it will have limited functionality. Instead of displaying the entire Android UI – something it might be too small to do effectively – it will only offer widgets displaying stuff like the time and weather, as well as incoming notifications. It is expected to also provide access to media playback controls and shortcuts to various settings.
Not playing the flagship game
The Samsung Galaxy Fold is a nerd's dream device. It packs the powerful Snapdragon 855 alongside tons of RAM and storage – as one would expect out of a $2000 phone.
But according to recent rumors, the new Motorola Razr could come with something a bit less powerful, namely the Snapdragon 710. The chip is comparable to the Snapdragon 835 in terms of single-threaded processing performance and is what you'd expect finding in a mid-range smartphone. The 710 is expected to power the upcoming Google Pixel 3a, for example.
Galaxy Fold Hardware Specs
New Motorola Razr Hardware Specs (Not confirmed)

SoC: Snapdragon 855

Memory: 12GB RAM, 512GB Storage

SoC: Snapdragon 710

Memory and storage: 4GB + 64GB or 6GB + 128GB
To some, all of this might seem underwhelming, but choosing the 710 over something more powerful does make sense. Judging by the name, the new Motorola Razr is likely to be a very thin phone with a relatively small for today's standards battery. Therefore, a power-efficient chip like the 710 could be a better pick over the 855, which is often paired with a beefy copper pipe for better heat dissipation.
Will a single camera suffice?
The Galaxy Fold's technical superiority is further evident from its long list of camera specs and features. It packs a whopping six cameras in total over its back, front, and inside, and with its telephoto and wide-angle cameras, it matches the
Galaxy S10
+ in terms of camera versatility.
The foldable Moto Razr may have just... one camera. Yup, leaks and rumors point at this being a phone without a selfie camera. Motorola's solution could be simply to take selfies with the Razr closed – by using the main camera and the secondary screen acting as a viewfinder. This approach could work, but it doesn't sound like an ideal solution as taking selfies or making video calls using third-party apps could be tricky, if not technically impossible. Of course, there's always the chance of leaks and rumors being simply wrong, and the foldable Razr could still come with a tiny selfie snapper in that slim notch above its screen.
The new Razr's battery life may disappoint
It makes perfect sense to find a massive battery inside a phone with a massive display. Case in point, the Galaxy Fold holds a total of 4380mAh. The 2730mAh battery rumored to be inside the Motorola Razr would hold about 37% less charge. In fact, it would be one of the smallest batteries fitted inside a recent phone of any price point. Sure, the Razr might get wireless and fast wired charging, but still, if the rumors are correct, its overall battery life could be mediocre at best.
Pricing: not for the faint-hearted
At $2000 apiece, chances are that the Samsung Galaxy Fold is not a phone for you. It's a marvel of technology, there's no denying that, but it's also a piece of the future that few would get to experience today.
The foldable Moto Razr won't be cheap either. Reports point at a $1500 price tag at launch, with Verizon exclusivity being a possibility. At least you'll probably get a free wireless charger in the box!
Razr vs Fold: which will be the better foldable phone?
As we mentioned above, the Samsung Galaxy Fold is a phone made for the tech enthusiast. It's a marvelous achievement, but also an experiment – and a pricey one at that.
Will the new Motorola Razr be a better foldable phone? Unfortunately, it's too early to answer that. What we can say with certainty, however, is that Motorola isn't making its foldable Razr for the nerds of the world. If it ever sees the light of day, this phone's purpose would be to show that Moto still knows how to make cool phones, all while marking the 15th anniversary of the original Moto Razr – a phone many of us hold fond memories of.
And as a product, the new foldable Razr phone is shaping up as a status symbol and a fashion accessory above anything else, hence we expect seeing more of them in rap videos than in real life. At this price, we doubt that it would be a hot seller, but we don't expect the Galaxy Fold selling by the millions either.