Samsung may take on the bendy Motorola RAZR with a compact 6.7" Galaxy Fold 2
5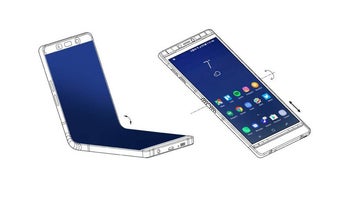 If you are disappointed by the two current approaches to foldable phones - the horizontal in-folding type of
Samsung's Galaxy
or the out-folding
Mate X
- there is another way, and it makes plenty of sense. Sharp has a working prototype and Motorola is reportedly
resurrecting the RAZR
for the bendable times, but Korean media is
reporting
today that Samsung is also working on a 6.7"
Galaxy Fold
successor that will fold over the horizontal axis, just like on
previous patents
.
This year was supposed to be a paradigm-shifting one, where we go from the plebeian flat and rigid phone screens to getting a taste of the future where we will fold and roll and unfurl like the benevolent video-guzzlers we are. The first future-fetchers, however, turned out to be... how to euphemise it... uninspiring. The two
upcoming
foldable phones from brand-name manufacturers that have actually reached a retail stage are big bulky contraptions that look and feel more like prototypes than polished retail rule-breakers that charge two grand for the early adopter privilege. The sad part is that they also
behave like it
.
Sharp's vertical in-folding phone patents have now been translated into a working prototype, and the company demonstrated the concept which resembles a foldable clamshell of sorts and works like a charm.
After all, the whole premise of foldable phones was, until a few years ago, to turn the 4"+ phone screens of the time into 7"+ ones. In fact, Sharp's approach is closer to what we imagined a foldable handset would be - an old-fashioned flip phone that has an uninterrupted screen where the hinge would be, making it compact to carry, and giving you a huge display when you need it.
Galaxy Fold 2 goes Motorola RAZR 2
Folding on the horizontal axis would have the resulting phone being more compact, too, as the Sharp prototype folding screen is just 6.2" when open. Well, Motorola's rumored
foldable RAZR
phone is tipped to be exactly what it says on the tin - a true RAZR clamshell succesor, but with an invisible hinge on the interior.
Samsung's 6.7" Galaxy Fold heir will bend around the horizontal axis, and will reportedly have just a small 1" screen on the outside for date/time/notification icons. That's quite a clever and eventually cheaper to produce approach than the current Fold concept. With its next foldable phone effort, Samsung is reportedly gunning for portability instead of screen space, tip the industry insiders in the report.
The Galaxy Fold is more in the tablet realm when unfurled, while its successor is supposed to be a fairly compact clamshell when tucked in your pocket, and even when open the 6.7" display is exactly the size of the one on the
Galaxy S10 5G
. That's more like what we imagined a foldable handset would bring to the table. Despite the issues that plagued the Fold preview units, Samsung is reportedly far from giving up on the category, and is planning to separate its foldable phone efforts in a different class of its smartphone portfolio altogether.
It is planning to finally
launch the Galaxy Fold
in the summer, after the spring release fell through, and if it has resolved the teething problems with the handset, we could be witnessing the dawn of a whole new era of cell phones.
As for the eventual release date of the Fold 2, Samsung will reportedly start sourcing its respective 6.7" bendy display in November, indicating a mass production and launch timeframe for the first half of 2020. If Samsung is prepping something along that same vein, we can only commend its efforts, as, let's face it, nobody wants to lug around a pocket Bible of a phone with a visible crease in the middle that costs two grand to begin with. Would you be interested in a Galaxy Fold clamshell more than in the current vertical axis edition?