SK Telecom pouring $900 million dollars to battle Facebook, iPhone and Android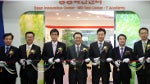 The smartphone and social networking revolution is taking the world by storm with the recent onslaught of mobile operating systems, applications and devices, pouring out of the Silicon Valley. This time around, the rest of the world knows what happened when Microsoft, and then Google, took over the information needs of mankind in the last twenty years or so, making them some of the richest companies in the process.
Now Apple has become world's
second largest firm
by market cap, and the biggest Korean telecom is firmly decided to stop the march of the North Americans. That SK Telecom is afraid it will be left out of the mobile game with crumbs is explicable. But to launch a 1 trillion won ($896 million) project to battle the Facebooks, Androids and iPhones of the world seems a bit overboard. The money will be poured into R&D for the next three years, and should result in SK Telecom having its own mobile platform, applications and services such as maps and music to distribute in the US, China and SE Asia. We are all for competition, and if this results in cooler, cheaper phones, we'd be the last ones to call the biggest South Korean carrier a daredevil. At least SK Telecom, unlike Nokia of recent, has realized that the truth is in software and services, not hardware.
The base technologies behind this incredible mobile push will be open for developers to use and modify at will, similar to Android. The big difference is that developers will not just be left there hanging - the project takes one guy with an idea SK Telecom likes, and gives her or him startup capital, office space and all the tax/accounting assistance needed so they can focus on the core task at hand. This is almost the
amount of money
Microsoft put into the development and marketing of Windows Phone 7, and the same approach to developers, so we'd wager to say we'll be writing more about this project in the coming months and years.
source:
SKTelecom
via
Bloomberg