Apple passes PetroChina to become the second largest company by market cap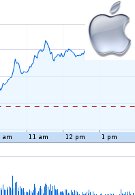 What do you call it when a company that makes gadgets surpasses China's biggest oil company by market capitalization, i.e. the number of shares floating multiplied by the stock price? A bubble? A well-deserved achievement?
We don't know, but we still can't wrap our head around the fact that, after passing Microsoft in that respect, Apple yesterday briefly surpassed PetroChina. At one point, its stock was trading at $292.76, making it cost a billion more than the $265 billion price of the Chinese oil giant, before the stock closed a bit lower. The only company with bigger market cap than those two now is another oil behemoth - ExxonMobil, valued at $311 billion.
Now, we know market cap is a fairly rough way for company valuation, but the sheer precedence that a high-tech consumer oriented company is placed on the same footing in the eyes of Wall Street as traditional natural resources companies, is mind-boggling. We might be seeing a
revolution going on here
, and we would welcome any phone innovations it will bring. Or, it could be just another tech bubble, we'll have to wait and see.
source:
YahooNews