Rumor returns: Meizu and Nokia to partner on the mysterious MX4 Supreme?
9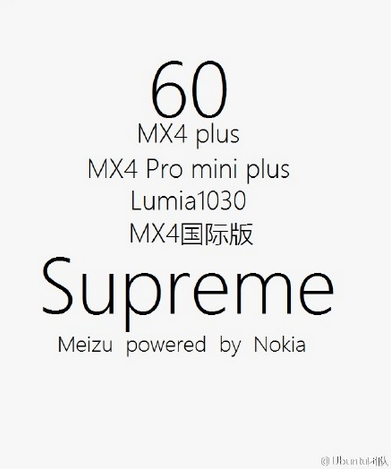 This poster has revived the rumor that Meizu and Nokia are working on a phone called the Meizu MX4 Supreme
Back in January, we passed along a rumor that
Meizu and Nokia would get together to produce a new handset
called the Meizu MX4 Supreme. While the phone was said to include some of the trademark looks associated with Meizu, it was supposed to feature hardware, software and coloring selected by Nokia.
Because of the Microsoft deal
, Nokia wouldn't be able to put its name on the handset.
The very next day, Meizu's Vice President of Science and Technology, Li Nan,
denied that it was working with Nokia
on a new handset. And the rumor might have died right then and there, except for a new rumor that came out of China on Monday.
The rumor came in the form of a poster which was published on a Weibo account. We're not sure what it all means, especially the mention of the rumored Nokia Lumia 1030. Considering that the speculation about the Lumia 1030
mentions a 50MP rear camera
, the poster could be hinting at a 60MP rear snapper for the Meizu MX4 Supreme. After all, a phone with the name of Supreme is going to have to be crammed with some mighty impressive specs. The original rumor from January mentioned that the Supreme would probably feature razor-thin bezels and be made available both inside and outside China.
As we said, Meizu has already denied that it is working with Nokia on a new phone. But perhaps this is a case where the lady doth protest too much.
source:
Weibo
via
NPU