Rumor: Serious issue with 128 GB iPhone 6 Plus model prompts Apple to stop using TLC NAND flash
99+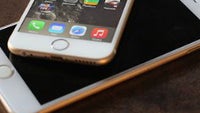 A couple of weeks ago, we heard about a
serious issue
plaguing
iPhone 6 Plus
128 GB owners – for unknown reasons, those handsets would just freeze up on their owners, or, even worse, enter a boot loop. Flash forward to a few days ago and we started hearing rumors that the culprit
may be the TLC NAND flash memory
, which is predominantly used in Apple's 128 GB toting phablets.
Today, a rumor, coming from "industry sources", claims that Apple has, indeed, put its finger on the defect and it truly is the TLC memory. There have also been reports about 64 GB
iPhone 6
models suffering from the same problem, which falls in line with industry insiders' claims that some 64 GB iPhone 6 units were also fitted with TLC.
We have no information on how much Apple's engineers worked on figuring out a fix the problem, but the leaksters claim that, ultimately, a final decision to stop using TLC NAND has been made and now all iPhone models will be fitted with MLC NAND instead.
Great news for future iPhone 6 owners, but what about those currently affected? Reportedly, there will be no recall; instead, Apple will try to patch things up on the software side as much as it can, with iOS 8.1.1. How effective this will prove to be remains to be seen.
Of course, we don't really expect Cupertinians to come out with an official announcement on hardware matters, so rumors and speculations is all we have until users are able to confirm whether the bug has been dealt with.
Recommended Stories