Roadmap mentions a February 18th launch date for the Samsung Galaxy Note LTE, Rugby Smart, and AT&T Fusion
8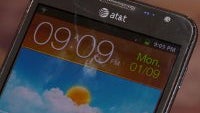 Not interested in Windows Phones at all, even despite that fact that we've been given some insight to the upcoming availability of the
Nokia Lumia 900
and
HTC Titan II
? Well, if you're interested in
Android
more than anything else, sit back and relax because we're hearing yet more news surrounding some upcoming AT&T bound devices.
We've played around with the
Samsung Galaxy Note LTE
for a
short time during CES
, but it seems as though the wait for it won't be much longer. Again, another
leaked Q1 2012 AT&T roadmap
mentions the phablet/tabphone launching on
February 18th
– making it a great late Valentine's Day gift for some people. However, the priced associated with the larger than life smartphone is
$299.99
with a 2-year agreement. Previously, we've seen the 4G LTE equipped Samsung Galaxy S II Skyrocket pushing the envelope for AT&T when it launched at $249.99, but this easily breaks that previous mark. Then again, knowing that it's sporting one monster of a display, it should be a fitting price point, right?
In any event, we're also hearing about two other unannounced Android powered smartphones in bound for AT&T's lineup. Specifically, it seems that we'll also be seeing the
Samsung Rugby Smart
and
AT&T Fusion
on the same date of February 18th – with on-contract pricing set at
$99.99
and
$124.99
respectively. Unfortunately, there is no information regarding the two smartphones, but we're bound to hear something in the very near future about them.
AT&T isn't kidding around, based on the slew of leaks we've been seeing today. Currently, Q1 is shaping up to be a decent time for AT&T considering they have plenty of Windows Phones and Android smartphones on tap for the quarter.
source:
BGR