Return of the Bloatware: Galaxy S7 ships with 8 GB of storage used up
47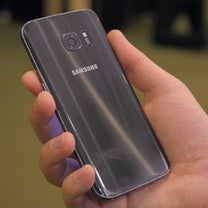 It's common knowledge that when purchasing a device with X amount of storage, the true reading never quite lives up to the billing. This is partially because manufacturers measure real estate differently to the manner in which computers and mobile devices read them. But while a subsequent ~10 percent drop on the stated capacity is the norm, further reductions tend to be the result of operating system and extra, often unwanted software. The new
Samsung Galaxy S7
, it appears, has been inundated with additional fodder, and loses a cool 8 GB to what would largely be considered bloatware.
The device, along with the
Galaxy S7 edge
, will ship with the latest Android 6 Marshmallow off the bat. This, as well as Samsung's TouchWiz overlay, is undoubtedly responsible for much of the lost real estate. But 8 gigs is an eye-watering amount of storage, particularly for those planning to grab the 32 GB variant. In the run-up to the launch of the S7 duo, it was made apparent that the home screen
will be less congested
, but the uncluttered UI belies a device still very much abundant with bloat.
On the plus side, the S7 line marks the return of the microSD slot, and Sammy has also thrown in support for cards of up to 200 GB in capacity. Thus, those who really need more room to maneuver will still be able to do so. Though the Galaxy S7 (and LG's G5)
do not support Marshmallow's Adoptable Storage feature
that allows memory cards to masquerade as internal storage, users should still be able to move some apps to the microSD, provided that the app's developer hasn't blocked this feature.
Presumably, a good chunk of the bloatware will be removable, which is something. Even so, if you're eyeing the 32-gig model but unsure as to whether you'll have enough space to play with, you may want to shell out for more on-board storage or snag
a legitimate microSD card
.
source:
Droid-Life
via
SamMobile