Results: What angle would you rather have on your selfie camera: wide or narrow?
9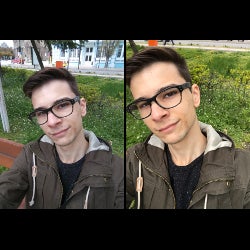 Taking selfies that catch your torso, a landscape piece, or another friend used to be a tough job. Narrow-angled selfie cameras make it tough to position a lot of things in the shot, especially when you can only move the phone an arm's length away from you. Things can get ugly, with cropped foreheads, chopped off limbs, weirdly twisted poses, and smiles that are obviously forced due to all the pain you are in.
To battle this, most manufacturers have widened the angle of the selfie camera on their handsets, letting it "see" more. Most notably, LG experimented with a super-wide-angle, 120-degree snapper on the V10, and then reimagined the concept for the V20 and G6.
The benefits of such a camera when taking selfies are clear, but there is also an inherent drawback — objects that are not in the center of the camera's field of view will get stretched out and distorted. That's how you end up with an egg-shaped head, a strangely huge palm, or a Leaning Tower of Pisa that looks weirdly wide and not so much leaning.
We thought we'd ask you, what really matters to you — a wide-angle camera that gets more into the shot, or a narrow-angle one that produces more "natural" imagery, with no banana-shaped distortions. Here's how that went: