Results: Snap Spectacles — are you getting a pair?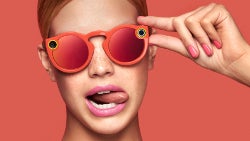 Snapchat, pressured by Instagram and Facebook stealing its one unique Stories feature, which got users to return daily, needs something else to entice its crowds. Probably for that reason, company Snap came up with its first hardware product — and a cool way to create buzz around it. The product is Spectacles — a pair of sunglasses, which sport a camera, capable of recording 10-second clips and sending them to your phone with just a tap of a button on the frame. The buzz-generating factor was the way the glasses were sold — the Spectacles were only available via special Snapchat vending machines, which would only appear in certain locations for 24 hours. However, the company is now launching online sales as well and you can go ahead and order your Spectacles for the modest price of $129.99.
Some might say they are a controversial product (despite the fact that a special light shows when they are recording), others might say Snapchat is for kids. But still, it's tech, it's wearable, it is — for better or worse — the future. We thought we'd ask you what you think about the Spectacles and whether or not you plan to buy a pair. Here's how the poll went!